Nike: Top Dow Stock in 2018
Currently, 37 analysts track Nike stock. Of these analysts, ~59% recommended a "buy," 35% recommended a "hold," and 5% recommended a "sell."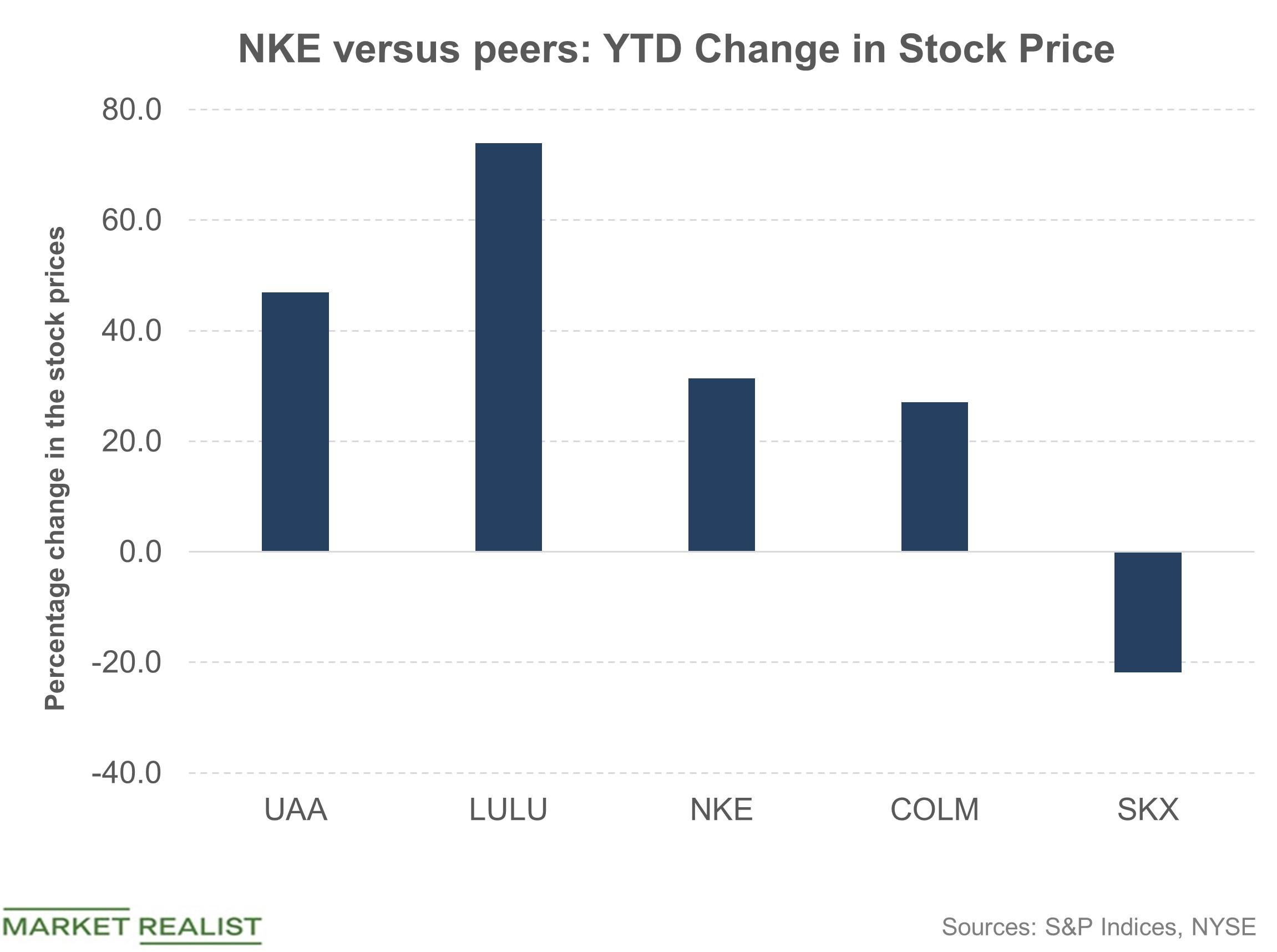 Nike's stock market performance
Nike (NKE) shares have been on a roll this year. Nike stock has risen ~31% YTD (year-to-date) and has outpaced the S&P 500 Index (+6.9% YTD). So far, Nike is the top Dow stock in 2018 as of August 20.
Article continues below advertisement
Article continues below advertisement
How have other sportswear stocks performed?
Sportswear stocks are having a great run in 2018. Lululemon Athletica (LULU) and Under Armour (UAA) have gained 74% and 47% YTD. Columbia Sportswear (COLM) has risen 27% YTD. Consistent financial results and returning confidence in athleisure stocks are behind the sector's strong performance.
Is there any upside to Nike stock?
Nike traded at its all-time high price on August 20 and closed the day at $82.15. Analysts don't see any upside to Nike stock from here. The company has been assigned an average target price of $82.36.
Under Armour and Lululemon shares are projected to fall 10% and 9% in the next 12 months, while Columbia Sportswear shares are projected to increase ~6%.
Analysts' view on Nike
Currently, 37 analysts track Nike stock. Of these analysts, ~59% recommended a "buy," 35% recommended a "hold," and 5% recommended a "sell."
Nike has a higher percentage of "buy" recommendations than Columbia Sportswear (38%), Under Armour (17%), and Lululemon Athletica (56%).
Nike is rated a 2.3 on a scale of one (strong buy) to five (sell). In comparison, Columbia Sportswear, Under Armour, and Lululemon Athletica are rated 2.4, 3.1, and 2.3, respectively.