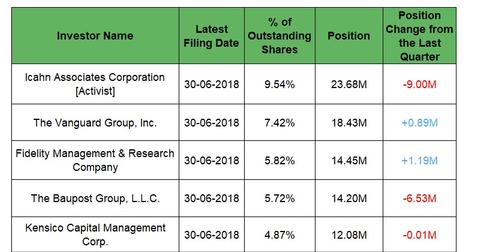 Institutional Activity in Cheniere Energy Stock in Q2 2018
By Vineet Kulkarni

Updated
Institutional activity in LNG
Let's take a look at how institutional investors played their holdings in Cheniere Energy (LNG) during the second quarter.
According to a recent 13F filing, Icahn Associates, the activist shareholder of the LNG (liquefied natural gas) exporter, sold net 9.0 million shares of Cheniere Energy and held 9.5% of its total outstanding shares as of June 30. It continues to be the biggest institutional shareholder of Cheniere Energy stock even after offloading a large portion of its holdings.
Article continues below advertisement
Notable institutional activity
The Vanguard Group, the second-largest institutional investor in LNG, added net 890,000 shares of the company and held more than 7.4% of its total outstanding shares as of June 30. Fidelity Management & Research held 5.8% of Cheniere Energy at the end of the second quarter of 2018.
Among other notable additions, UBS Financial Services boosted its stake in LNG by adding net 5.7 million shares. It held 2.4% of the stock as of June 30. Zimmer Partners added 5.8 million shares and held 2.3% of LNG's total outstanding shares during the second quarter.
Cheniere Energy stock is up ~12% so far this year, outperforming many of its peers. To learn more about how it fared in the second quarter, read Cheniere Energy Missed Estimates This Time: What's Next?
To learn how institutional investors played other top midstream companies, read How Institutional Investors Viewed Top Midstream Companies in Q2.