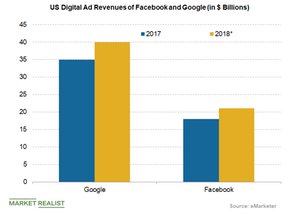 How European GDPR Might Benefit Facebook and Google
By Sophia Nicholson

Aug. 24 2018, Published 10:06 a.m. ET
The European Union's GDPR
The European Union (EZU) has enacted the General Data Protection Regulation (or GDPR) regarding data protection and privacy to give users more control over their online data. The law was passed in April 2016 but came into effect on May 25, 2018. According to the GDPR, companies will have to be transparent with users on the data they collect from them.
Article continues below advertisement
Impact of the GDPR
According to the GDPR, all websites, directly or on behalf of the advertising companies, will now have to seek user approval to use their personal information. According to a Reuters report, Europe's new data privacy law could strengthen tech (technology) giants such as Alphabet's (GOOGL) Google and Facebook (FB) in the $200 billion global digital advertising industry.
These established players have a vast customer base who are loyal to their platforms. So Facebook's and Google's YouTube customers are more likely to give consent and allow advertisers to use their data since the companies should be big enough to ensure compliance and manage problems during uncertainty.
However, these big companies have faced losses since the GDPR was enacted. The stringent data privacy law dented Facebook's and Twitter's (TWTR) user growth in their recently reported second quarters. Under the new law, Alphabet was charged a massive $5 billion fine for competition abuses related to its Android phone software. But Google is working with publishers to secure consent when using ad products, according to GDPR rules.
Digital ad market
Facebook and Google are dominating the digital advertising industry. According to eMarketer predictions, Google's digital ad revenues will grow 14.5% to $39.9 billion in 2018, while Facebook's US ad revenues are expected to grow 16.9% to $21 billion in 2018. Total US digital ad spending is poised to increase 6.6% to ~$221 billion in 2018.