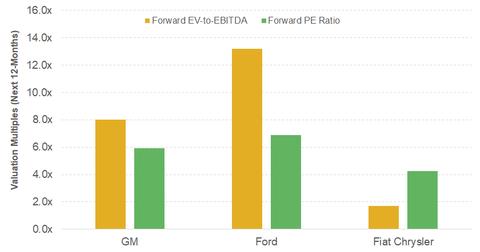 GM and Ford: How Valuations Stack Up after July Sales Data
By Jitendra Parashar

Updated
Analysts on US auto stocks
In the previous part of this series, we explored how Wall Street analysts are rating the top two US auto giants, General Motors (GM) and Ford (F). Currently, a higher percentage of Wall Street analysts favor a "buy" on GM stock, and analysts believe it has higher upside potential as compared to Ford stock. Note that General Motors (GM) stopped reporting its monthly sales data in March. The actual numbers for US auto sales in the second quarter are expected to be released in the first week of July after GM reveals its sales numbers for the quarter. In H1 2018, GM's US sales rose 4.2% YoY (year-over-year), while Ford sales fell 1.8%.
Article continues below advertisement
US automakers' valuation
We'll begin by looking at US autos' forward EV-to-EBITDA (enterprise value to earnings before interest, taxes, depreciation, and amortization) multiples. As of August 14, GM's EV-to-EBITDA was 8.0x. This multiple was much lower than Ford's 13.2x.
These forward EV-to-EBITDA multiples were based on the expected next 12-month EBITDA of these US automakers. Similarly, GM's forward PE (price-to-earnings) multiple was at 6.0x, which was also lower than Ford's 6.9x.
Among key auto industry players, Fiat Chrysler (FCAU) had the lowest EV-to-EBITDA multiple of 1.7x and forward PE multiple of 4.3x. Interestingly, valuation multiples of Italian luxury carmaker Ferrari (RACE) are typically much higher than these mainstream auto companies. Ferrari's profit margins could be a partial reason for its higher valuation. In addition, Ferrari's business model involves lower risk as compared to the risk profile of other key automakers.
What factors should we watch in Q3 2018?
In 2015 and 2016, US auto companies (FXD) saw good times due to record light vehicle sales in the US. While total US auto sales witnessed a minor decline of 1.8% YoY (year-over-year) in 2017, higher US truck and utility vehicle demand kept investor optimism alive.
Positive YoY growth was seen in H1 2018, and US sales data kept investors' optimism alive about the future of US auto sales. However, the biggest fear for auto companies seems to be from the ongoing global trade wars. Potential steep auto tariffs from the Trump administration could force automakers to pay a heavy price and hurt their future growth estimates, which should also drive their valuation multiple lower.