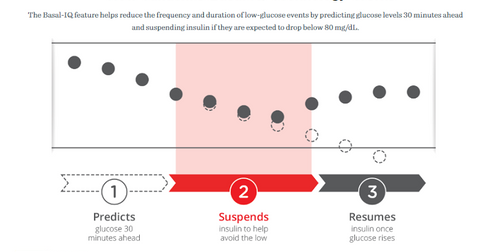 Exploring Tandem Diabetes Care's Product Pipeline
By Kenneth Smith

Updated
Products in the pipeline
Tandem Diabetes Care (TNDM) is working on developing products that would allow it to target differentiated segments in the insulin-dependent diabetes market. Tandem's second-generation Automated Insulin Delivery (or AID), T:slim X2 with Control IQ system is expected to integrate its t:slim X2 pump with Dexcom's G6 sensor and the treat-to-range technology that Tandem licensed from TypeZero technologies. 
This system is intended to increase and decrease basal insulin based on the user's predicted blood glucose levels and deliver automated correction boluses.
Article continues below advertisement
Additionally, Tandem commenced enrollment in the US portion of the International Diabetes closed Loop trial in June. The trial is expected to use t:slim X2 integrated with inControl AID algorithms from TypeZero. The algorithm is designed to automatically adjust insulin based on information from a Dexcom G6 sensor. Tandem plans to file a PMA submission with the FDA based on the results from this trial with the goal of launching the product in 2019.
Hardware platform
Tandem is developing a next-generation hardware platform, t:sport Insulin Delivery System, which is expected to be half the size of the t:slim pump. It is targeted toward people who desire greater discretion and flexibility with their insulin pump. 
Tandem endeavors to launch this system in 2020 or 2021. The company is also working on a mobile application designed to wirelessly upload pump data to t:connect, receive pump alerts and alarms, and integrate health-related information from third parties. Tandem expects to launch the application in the second half of 2018 with a subset of these features.
We'll look at Tandem Diabetes Care's valuation metrics in the final part of this series.