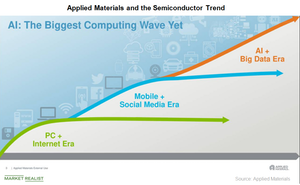 AMAT Feels the Impact of the Shift from Mobile Era to AI Era
Applied Materials and semiconductor trends
Applied Materials (AMAT) has a broad portfolio that serves a wide range of customers from semiconductors to display manufacturers. As AMAT supplies manufacturing equipment for next-generation technologies, it feels the impact of the semiconductor trends before other firms.
The company is seeing short-term weakness in the smartphone market. However, its overall long-term growth remains strong and is driven by multiple growth drivers in AI, IoT, and automotive.
Article continues below advertisement
Smartphones
At the fiscal second-quarter earnings call, AMAT's CEO, Gary Dickerson, stated that the company's semiconductor and display customers made some adjustments in their near-term capacity planning due to weakness in smartphones sales. According to the Wall Street Journal, Eugene Investment & Securities analyst Lee Seung-woo expects Samsung (SSNLF) to ship ~31.0 million Galaxy S9 devices in 2018, well below the ~50 .0million Galaxy S7 devices it shipped in 2016.
While AMAT's customers with exposure to smartphones are making short-term adjustments, Dickerson believes that smartphones remain a key long-term driver both in terms of technology and capacity.
Dickerson referred to a forecast by one of its memory customers. This customer stated that for the next three years, the DRAM (dynamic random access memory) and NAND (negative AND) content per mobile device would grow at an average annual rate of 20.0% and 35.0%, respectively.
The guidance from Apple (AAPL) and its foundry partner TSMC (TSM) show that smartphone demand should pick up in the second half of 2018. However, the overall smartphone demand has slowed.
The impact of slowing smartphone demand would be more than offset by emerging trends of AI and IoT, which Dickerson said "will disrupt and transform virtually every industry and area of the economy over the next decade." We'll look into this topic in the next article.
Check out all the data we have added to our quote pages. Now you can get a valuation snapshot, earnings and revenue estimates, and historical data as well as dividend info. Take a look!