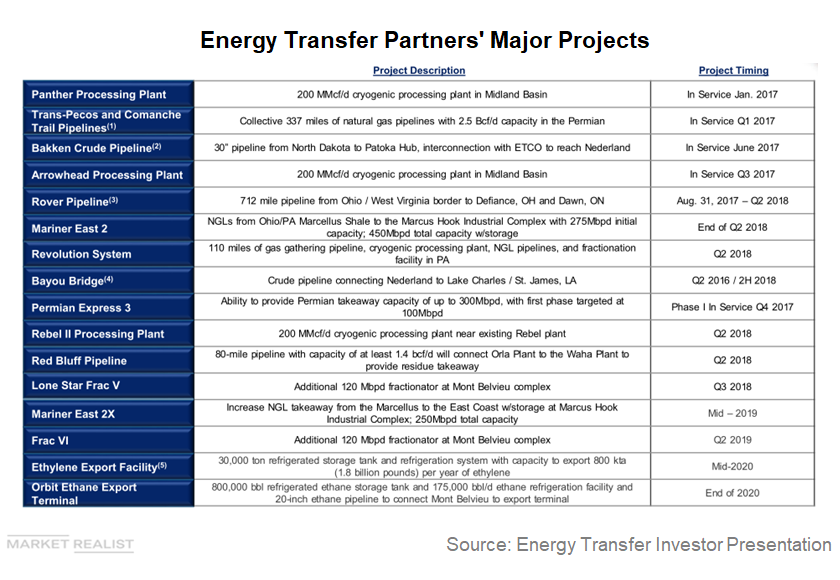 A Quick Update on Energy Transfer Partners' Major Projects
Existing projects
In this article, we'll look at Energy Transfer Partners' (ETP) existing and new projects discussed during the second quarter earnings conference call. Let's start with the partnership's ambitious Rover Pipeline project.
ETP received approval from the FERC to place additional facilities of Phase 2 of the project into service in May 2018. The mechanical work on the project is 100% complete. The partnership expects to complete the restoration activities this month, resulting in full placement of the project. ETP's revolution system project is complete, and it's expected to be placed into service following the completion of the Rover Pipeline.
Article continues below advertisement
On the Mariner East 2 and 2x, the partnership doesn't expect further delays due to the blockages from the Pennsylvania DEP (Department of Environmental Protection). The partnership expects to use the existing pipeline in the affected areas and bring the ME2 project online by the end of the third quarter.
According to Thomas Long, ETP's CFO, "100% of HDDs are completed, or in process, in line with our approved HDD plan with no more drilling re-evaluation reports required from DEP. The Pennsylvania PUC's commissioners have overturned the prior decision that prevented continued construction in West Whiteman Township." HDD here refers to "horizontal directional drilling."
Apart from these three projects, the partnership placed the Lone Star Frac V, the Red Bluff pipeline project, and the Rebel 2 processing plant into service during the second quarter. It expects to bring online another 200 MMcf/d (million cubic foot per day) processing plant in West Texas by the end of this year. Moreover, the partnership expects to bring online phase two of the Bayou Bridge, the Permian Express 3 expansion, and the Old Ocean natural gas pipeline projects by the end of this year. The Old Ocean natural gas pipeline is a 50-50 joint venture between ETP and Enterprise Products Partners (EPD).
Article continues below advertisement
New projects
Energy Transfer Partners remains optimistic about its recently announced projects despite the rise in global trade tensions. These projects include the Orbit Ethane export terminal and a new crude oil pipeline from Midland to Nederland. In response to an analyst question about the possible impact of tariffs on the Orbit project, Marshall McCrea, ETP's COO, said, "we are selling ethane at the dock to satellite and their handling it from there. So we don't see an impact on our partnership from tariffs related to China." Orbit is a joint venture between ETP and Satellite Petrochemical.
Capital guidance
The partnership now expects to spend $4.5 billion to $4.8 billion on organic projects this year. ETP has the largest capital budget for 2018 among major midstream companies. For more detail, read ETP: The Highest Capital-Spending MLP.
In the next article, we'll look into Energy Transfer Equity's (ETE) technical indicators.