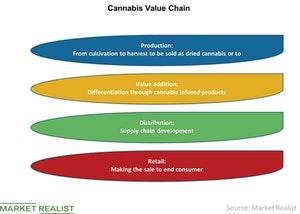 Why We're Keeping a Close Watch on the Cannabis Value Chain
<p>In the second half of this year, much of cannabis companies&#8217; efforts will go into organizing the logistics of the business. </p>
The value chain
In the second half of this year, much of cannabis companies' efforts will go into organizing the logistics of the business. Companies will continue to make capital investments in capacity extension, value addition, marketing and distribution, and other areas. We may see companies enter into more partnerships to gain an advantage in the recreational market as we have seen recently.
Article continues below advertisement
Article continues below advertisement
Production
In the above chart, we've outlined four stages in the cannabis value chain. Companies such as Canopy Growth (WEED), Aurora Cannabis (ACB) (ACBFF), and Cronos Group (CRON) have moved to build significant capacity to meet the demand as we saw in our series titled How Cannabis Companies Are Rushing to Expand Operations.
Established cannabis producers that already supplied to the medical market moved to build significant capacity with expectations of significant demand from the recreational market in comparison to the medical market.
Capacity growth
Licensed cannabis producers have taken different approaches to expand their capacity with some either choosing to build new or extend existing production facilities and some opting to grow capacity by acquisition. For example, Aurora Cannabis acquired significant capacity after its acquisition of MedReleaf (MEDFF). On the other hand, Aphria has extended its existing production facility to increase production capacity.
Current supply concerns
According to the Government of Canada website, there are currently 113 licensed cannabis producers (MJ) in Canada, a number that has gradually climbed over the year. The number of producers poses a supply concern to the industry, threatening companies with an oversupply of cannabis product. Read on to know how companies can mitigate this threat.