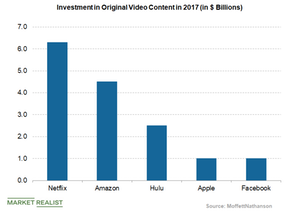 Why Is Facebook Investing in Original Shows?
Facebook in talks to bring on Ronaldo
Facebook (FB) is reportedly in discussions to bring global soccer superstar Cristiano Ronaldo into a reality show. According to Variety, if Facebook can get Ronaldo on the show, it would be the company's biggest original series deal to date. The social media giant would reportedly pay him $10 million for the 13-episode reality show that would appear in Facebook Watch.
Article continues below advertisement
Article continues below advertisement
Show with Ronaldo
Facebook has been making investments in original shows for Watch for a year. Its sports-related programming has been gaining popularity. Of the initial batch of Facebook Watch originals, Ball in the Family has about 1.5 million followers.
The company believes the original series with Ronaldo could bring massive success for Facebook Watch originals. Ronaldo has a huge fan following since he is one of the most famous athletes in the world and is the most popular sports celebrity on Facebook with more than 120 million followers on his official page. He plays for Spanish pro team Real Madrid and the national Portugal team, which was eliminated from the 2018 World Cup last Saturday. Reportedly, Ronaldo has been associated with Facebook in the form of a scripted drama series about a diverse high school girls' soccer team in upstate New York.
Facebook's investments in original shows
In 2017, Facebook invested $1 billion to acquire original content. It's competing with Netflix (NFLX), Apple, Hulu, and Amazon (AMZN) for content. In 2017, Netflix spent $6 billion to launch 30 new original shows, while Amazon spent $4.5 billion on original content and acquired content. Online streaming service Hulu invested $2.5 billion on content in 2017, while Apple allocated $1 billion last year to buy new content.