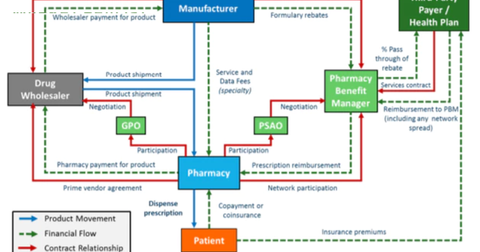 What Industry Analysts Think of the Amazon-Pillpack Deal
By Anne Shields

Updated
Factors to consider when entering the prescription drug delivery market
So far, we've discussed Amazon's (AMZN) acquisition strategy and the factors that are likely to aid the company's acquisition spree. Amazon's scale, coupled with its billion-dollar cash reserves and its track record of running small teams independently, has helped the company to attain synergies from the buyouts.
However, entry into the prescription drug delivery space will require Amazon to adapt and accordingly change the shopping habits of a cluster of shoppers that have a fixed mindset about where and how they buy their prescription drugs. Moreover, people with urgent needs, such as for medicine for a sinus infection, may not wait for online delivery, limiting the reach of Amazon's customer base.
Article continues below advertisement
Industry analysts' mixed reactions
Citing Aaron Kessler, an analyst at Raymond James, CNBC wrote, "While Amazon could have grown organically, we believe it was able to significantly speed up its time to market through M&A." Raymond James has a "buy" rating on Amazon.
However, some industry analysts have played down the immediate threat posed by the Amazon-PillPack deal. Citing Vishnu Lekraj, an analyst with Morningstar, Reuters wrote, "I believe they bought this to learn about the market and to determine if they are able to make larger investments."
Brian Tanquilut, an analyst with Jefferies, shared a similar opinion. According to CNBC, Tanquilut said, "I think it's an overhang more than anything else. It's hard to figure out what it really does or when it impacts the pharmacies, but it weakens sentiment on the group further. PillPack is already in the market, so it shouldn't have much of an incremental impact until Amazon figures out how to grow its share and expand it by integrating it into the app."