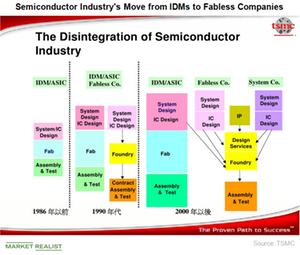 What Happened to Intel's Foundry Business?
Intel's x86 integration model worked well in PCs
In 1986, Intel (INTC) adopted an integration model in which it invested in x86 chip designs and manufacturing nodes to attain technology leadership in the microprocessor market. Since then, no company has been able to compete with Intel in terms of manufacturing nodes.
Article continues below advertisement
Third-party foundries and Intel
In the 1980s, there was only IDM (integrated device manufacturer) model, in which a company designed and manufactured chips. Very few companies only designed chips and had them manufactured at IDMs. However, they faced the risk of IDMs taking their designs or prioritizing their chips over these fabless companies' chips.
Morris Chang founded TSMC (TSM) in 1987 with a commitment to not compete with customers on chip designs and only focus on manufacturing. This gave way to a new segment of fabless chip designers that develop specialized computing chips and graphics chips that directly compete with Intel chips.
With the passage of time, TSMC reduced the technology gap with Intel. As a result of the success of the foundry model, Advanced Micro Devices (AMD) spun off its foundry business and Samsung (SSNLF) opened its foundries. Industry peers Qualcomm (QCOM) and NVIDIA (NVDA) started manufacturing their chips at these foundries, and TSMC slowly became the second-largest semiconductor company after Intel.
Intel's foundry business
Intel (INTC) decided to jump into the foundry business, but its investment in its integration didn't attract as many customers as it had hoped. In August 2016, Intel won a contract to manufacture ARM chips for LG.
As its integration model didn't make Intel's fabs flexible for low-power processors, TSMC and Samsung foundries picked up steam. Intel's manufacturing lead is slipping, and it's lagging its peers in low-cost processors used in mobile and IoT (Internet of Things) devices. Intel decided to focus on markets like AI and autonomous cars, where its higher-cost processors are more acceptable.
Next, we'll look at Intel's competitive landscape.
Check out all the data we have added to our quote pages. Now you can get a valuation snapshot, earnings and revenue estimates, and historical data as well as dividend info. Take a look!