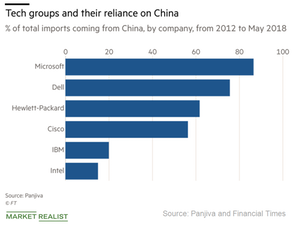 The Impact of a US–China Trade War on Intel
Intel's exposure to China
Intel (INTC) is partnering with Chinese (MCHI) companies to tap the fast-growing markets of AI and 5G. Intel faces strong competition from NVIDIA (NVDA) and Qualcomm (QCOM) in these markets. NVIDIA's GPUs (graphics processing units) are widely adopted by cloud companies for AI workloads. Qualcomm is leading the 5G space with several design wins for its 5G modems.
This collaboration comes at a time when the United States and China are engaged in a trade war. Both countries have imposed import tariffs and have threatened to increase regulatory scrutiny. The United States might block all the deals that lead to the transfer of technology and intellectual property to China.
Article continues below advertisement
The US–China trade war revolves around 5G
The trade war between the United States and China revolves around the supremacy of 5G technology, which is expected to form the basis for the data economy. President Trump blocked Qualcomm's (QCOM) acquisition by Broadcom over concerns of transferring 5G technology abroad.
Intel's 5G partnership with Huawei and China Telecom gives China an edge in accelerating 5G commercialization. If this partnership comes under CFIUS (Committee on Foreign Investment in the United States) scrutiny, it could impact Intel's 5G initiative.
China's response to the trade war
In response to Trump's actions, China's MOFCOM (Ministry of Commerce) warned that it might resort to "comprehensive measures" such as increased taxes, the cancellation of licenses and partnerships, a consumer boycott of US goods, a slower approval process, and increased regulatory scrutiny. These measures could impact US companies operating in China.
Qualcomm would be the most impacted of these entities, as it relies on China for most of its licensing revenues. The company was awaiting China's regulatory approval to complete the NXP Semiconductors (NXPI) acquisition.
Intel could also be affected, as it may not be able to penetrate China's market otherwise. The tech giant might face heavy tariffs and taxes on memory chips it manufactures in China and imports to the United States. In its upcoming earnings announcement, Intel's management might shed some light on how the trade war would impact its business.
Next, we'll see what investors can expect to see in Intel's upcoming earnings.
Check out all the data we have added to our quote pages. Now you can get a valuation snapshot, earnings and revenue estimates, and historical data as well as dividend info. Take a look!