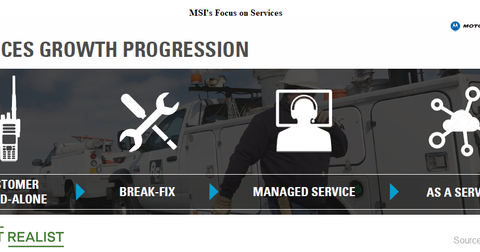 Motorola Solutions' Managed and Support Services Business
By Adam Rogers

Updated
TAM of $6 billion
Motorola Solutions (MSI) expects its Managed & Support Services business to drive continued opportunity for revenue growth. The total available market (or TAM) in MSI's Managed & Support Services business has been estimated to be $6.0 billion. 
Managed Services focuses on continual network management, delivery of communication outcomes, and security monitoring. Support Services looks at repair and maintenance, tech support, network monitoring, and software and security updates.
Article continues below advertisement
In 2017, this segment generated $1.7 billion in revenues for MSI. Its order backlog had almost doubled from $3.3 billion in 2016 to $6.2 billion in fiscal 2017. Its gross margin rose from 40.0% to 44.0% in fiscal 2017. Its recurring revenues accounted for 28.0% of total Managed & Support Services revenues in 2017, up from 18.0% in 2016.
Increases global footprint
MSI has been able to increase its global delivery footprint over the last few years. It has more than 40 managed systems that have doubled since 2015. MSI continues to gain customers, driven by increasingly complex operations, rising security concerns, and the rapid pace of technology advancement.
MSI claims to manage enterprise operations more efficiently and at a lower cost compared to its peers. The company now aims to maximize the services on its existing installed base of LMR (land mobile radio) systems and expand value-added services for its customers. MSI noted that one of its objectives is to be a leading mission-critical operations service provider.