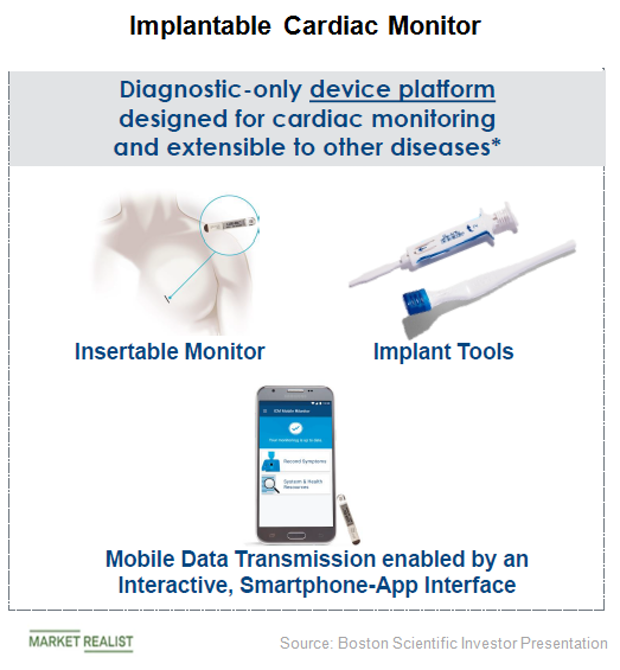 LUX-DX ICM and WATCHMAN LAAC May Prove Solid Drivers for BSX
LUX-DX insertable cardiac monitor
Boston Scientific (BSX) is preparing to launch the LUX-DX insertable cardiac monitor (or ICM) in both the United States and Europe and will thereby enter into the adjacent market, which is worth almost $750 million, in 2019.
The above diagram shows key characteristics of Boston Scientific's LUX-DX ICM. This diagnostic device has been designed to detect cardiac conditions such as tachycardia, bradycardia, pause, and atrial arrhythmias.
Article continues below advertisement
Article continues below advertisement
WATCHMAN LAAC device
Boston Scientific expects to report revenue of close to $400 million in its structural heart business in 2018. This revenue will mainly be attributable to the rapid uptake of its ACURATE TAVR and WATCHMAN devices.
By the end of the first quarter, the company had already implanted the WATCHMAN left atrial appendage closure (or LAAC) device in more than 50,000 patients across the world. The device has been approved by the FDA for non-valvular atrial fibrillation patients as an alternative to long-term warfarin therapy for reducing the risk of strokes.
Boston Scientific has planned to position the WATCHMAN LAAC device in ~500 large cardiovascular centers in the United States by the end of 2018. Beyond the US market, Boston Scientific is also rapidly expanding the presence of the device across multiple international markets. The company expects China to become its number two market for the device after the United States. In the first quarter, the company reported positive results from its SALUTE trial, which evaluated the safety and efficacy of LAAC therapy in non-valvular atrial fibrillation patients in Japan. Boston Scientific aims to launch the WATCHMAN LAAC device in Japan in the second half of 2019.
Boston Scientific is also focused on enrolling patients for the evaluation of the next-generation WATCHMAN FLX device in the United States in 2018.
Robust safety profile
Based on the data of 1,000 patients implanted with the WATCHMAN LAAC device from the study in the nested registry, Boston Scientific demonstrated a 1.5% major adverse event rate, lower than what it witnessed previously in clinical trials and much lower than what was witnessed for any other left atrium procedure. The robust safety profile of the WATCHMAN LAAC device has played a pivotal role in increasing its adoption in 2018.
In the next article, we'll discuss Boston Scientific's electrophysiology portfolio in greater detail.