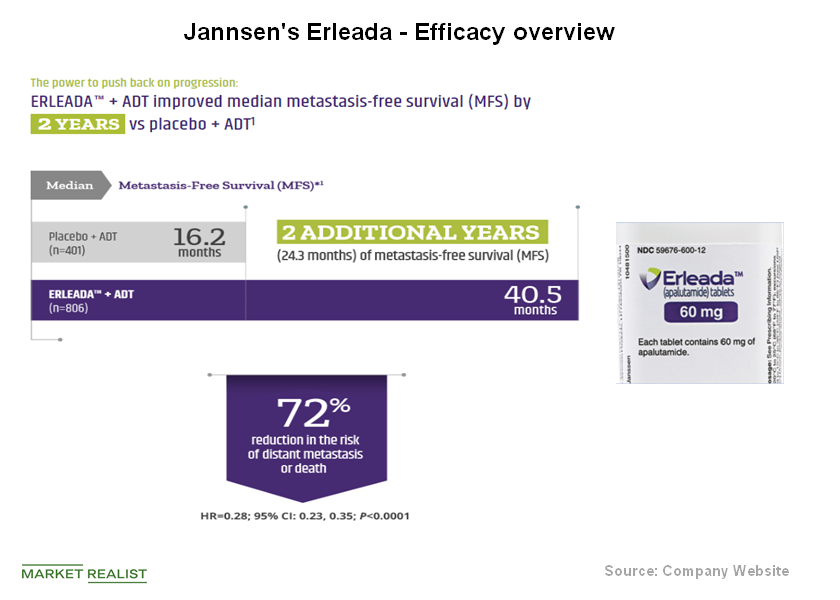 Johnson & Johnson's Erleada Approved by Health Canada
Erleada receives Health Canada license
On July 4, Johnson & Johnson's (JNJ) pharmaceuticals division, Janssen, received Health Canada's approval for its drug Erleada (apalutamide), which is used for the treatment of patients with nmCRPC (nonmetastatic castration-resistant prostate cancer).
Erleada is the first treatment available for men with nmCRPC, which is referred to as a condition characterized by continued disease progression despite undergoing ADT (androgen deprivation therapy). It's administered to patients in whom the disease has not spread to other parts of the body.
Erleada is an orally administered next-generation androgen receptor inhibitor. It helps in blocking androgens activity and slows down the disease's progression. It was approved by the FDA in the first quarter.
Article continues below advertisement
Approval was based on Spartan study data
The approval was based on a Phase 3 study data of Spartan clinical trials. The data showed a decrease of ~70% in the risk of metastasis or death in patients. It also showed an improvement in the median metastasis-free survival rate by 24.8 months compared to the placebo.
According to Dr. Bobby Shayegan, head of urology at McMaster University in Ontario and SPARTAN clinical investigator, "Previously, men with prostate cancer who were no longer responding to current therapies had to wait until the cancer started to spread before they could go on another treatment. Erleada has shown a meaningful delay in the progression to metastases along with a tolerable safety profile. I am excited to have an option I can offer my patients earlier than anything else that has been available."
Check out all the data we've added to our quote pages. Now you can get a valuation snapshot, earnings and revenue estimates, and historical data as well as dividend info. Take a look!