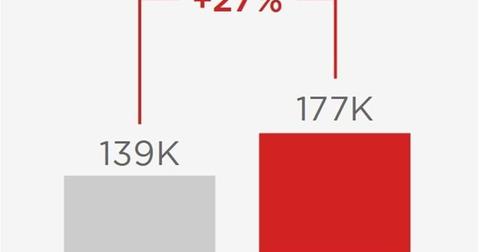 Inside the Yelp-Gather Partnership
By Ruchi Gupta

Aug. 1 2018, Updated 1:01 p.m. ET
Millions of people plan events each year
Yelp (YELP) recently partnered with event management startup Gather on a program known as Gather Booking Network. Through the partnership, Yelp is getting exposure to the $30 billion US party and events industry.
Gather connects restaurants and event venue providers with people who are planning events. It coordinates events ranging from corporate gatherings to weddings. Gather says that more than 15 million people plan events each year. It has teamed up with ~12,500 restaurants and venues across the United States, and it's banking on its partnership with Yelp to extend its reach.
For Yelp, the partnership with Gather is expected to expose restaurants on its site to more business opportunities, particularly event catering. The partnership is expected to make it easier for the millions of Yelp users to plan and execute events.
Article continues below advertisement
Is partying the new business for Internet companies?
If Yelp's partnership with Gather and Facebook's (FB) recent launch of the Watch Party video feature are anything to go by, it appears that online services companies are looking to connect gatherings to drive growth. Facebook's Watch Party feature lets people come together to watch the same video as a group on Facebook, which means it could help Facebook deliver targeted ads at the same time to people with common interests.
Revenue rose 13%
Yelp's tie-up with Gather could help enhance the appeal of its review service, potentially drawing more users and advertisers to its platform. Some 177,000 businesses were regular advertisers on Yelp at the end of the first quarter, enabling the company to generate $214 million in advertising revenue and $223 million in overall revenue, which rose 13% year-over-year. Overall revenue rose 54% at Snap (SNAP), 21.2% at Twitter (TWTR), and 25.8% at Google parent Alphabet (GOOGL) in that period.
Revenue declined 7% YoY for Groupon (GRPN) in the first quarter.