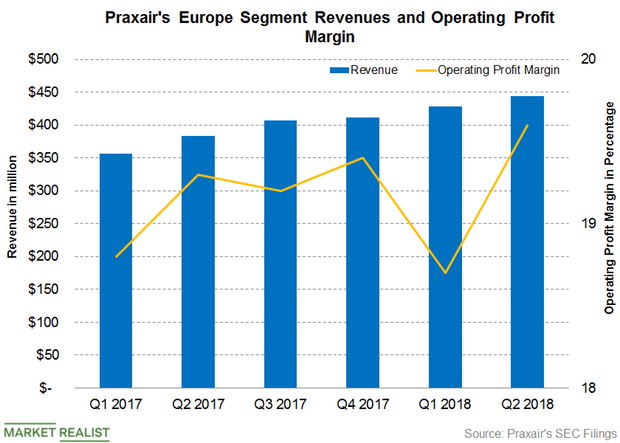 How Praxair's European Revenue Is Trending
European segment in Q2 2018
Praxair's (PX) European segment contributed 14.5% of its total revenue in Q2 2018, compared with 13.5% in Q2 2017. The segment's revenue rose 15.9% YoY (year-over-year) to $444 million from $383 million.
The company's European revenue was boosted by 2% volume growth, a 3% increase in product prices, cost pass-through benefits of 4%, and foreign currency benefits of 7%. Most of the segment's end markets saw growth, particularly Italy, Spain, and Germany.
Article continues below advertisement
Article continues below advertisement
Operating profit and margins
In Q2 2018, Praxair's European operating profit grew 17.6% YoY to $87 million from $74 million, boosted by the abovementioned factors. Whereas increases in costs of goods sold impacted the segment's profit margin, it still expanded by 30 basis points YoY to 19.6% from 19.3%.
Outlook
The segment is expected to continue its growth on higher volumes and product prices, but may be impacted by the strengthening of the US dollar. Investors can get indirect exposure to Praxair through the Invesco S&P 500 Equal Weight Materials ETF (RTM), of which Praxair comprises 4.4%. The fund also provides exposure to Sherwin-Williams (SHW), International Flavors & Fragrances (IFF), and LyondellBasell (LYB), of 4.75%, 4.50%, and 4.0%, respectively.
`