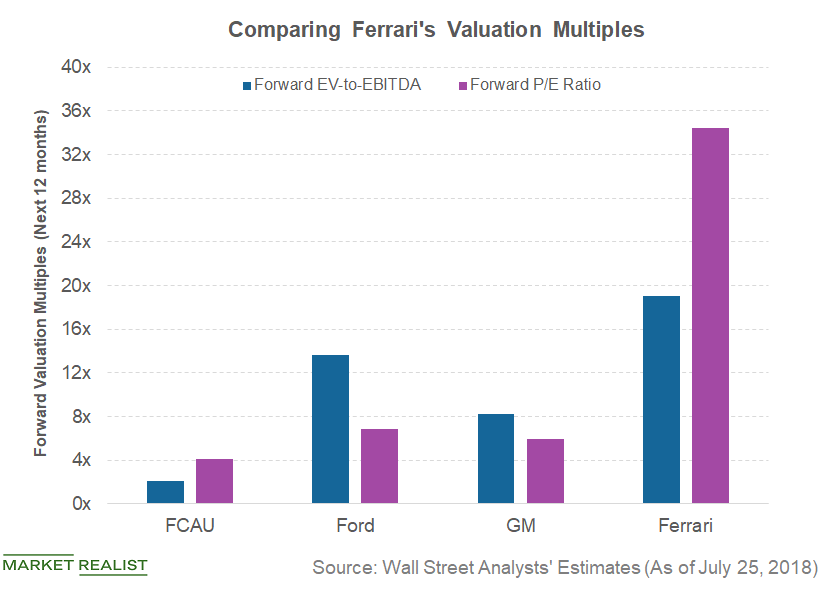 How Ferrari's Valuation Looks before Its Q2 2018 Earnings Event
Forward valuation multiples
Valuation multiples help investors compare companies by assessing whether a stock is overvalued or undervalued. While there are a variety of valuation multiples available, we'll use the forward EV-to-EBITDA (enterprise value to earnings before interest, tax, depreciation, and amortization) here. The forward EV-to-EBITDA multiple tells us how a business is valued for each dollar of its estimated EBITDA.
Article continues below advertisement
Article continues below advertisement
Ferrari's valuation
On July 25, Ferrari's (RACE) forward EV-to-EBITDA multiple was 19.0x. This multiple was much higher than mainstream automakers (FXD) General Motors (GM), Ford (F), and Fiat Chrysler (FCAU). The EV-to-EBITDA multiples of GM, Ford, and FCAU were 8.2x, 13.6x, and 2.1x, respectively. These forward valuation multiples are calculated based on the estimated EBITDA of the respective companies for the next 12 months.
Ferrari's forward PE multiple was 34.4x, which was also much higher than other legacy automakers. The forward PE multiples for GM, Ford, and FCAU were 5.9x, 6.9x, and 4.1x, respectively.
What could be factored in?
In the first quarter, the demand for Ferrari's V12 cars was firm after the solid recovery seen in 2017. The company's recently launched V12 car models also attracted demand in the first quarter, which boosted the company's profit margin and investors' confidence. So, continued expansion in RACE's profitability could already be factored into its valuation. Any sign of weakness in its profitability could hurt its valuations going forward.
In the final part of this series, we'll explore some key technical levels in Ferrari stock before its second-quarter earnings event.