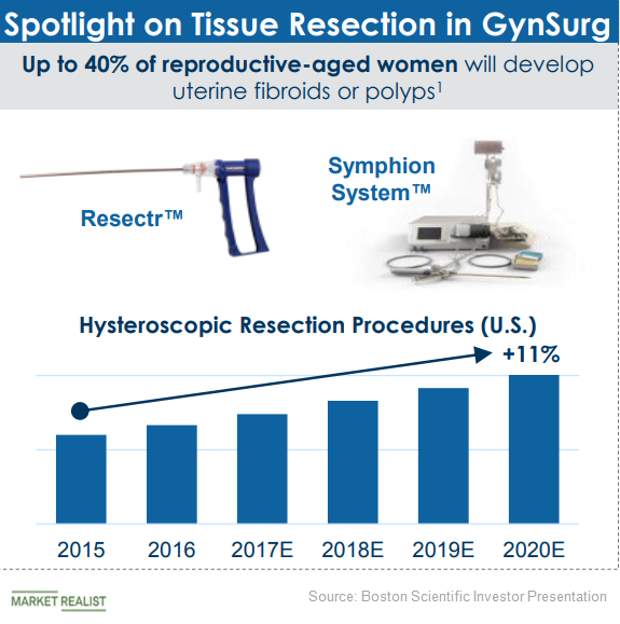 How BSX Is Set to Benefit from Its nVision Medical Acquisition
Performance in Q1 2018
On a reported basis, Boston Scientific's (BSX) urology and pelvic health sales rose 11.8% YoY (year-over-year) to $293 million in Q1 2018, and 9.2% YoY in constant currency. The growth was driven by the robust uptake of the company's LithoVue uteroscope and other products targeting kidney stone disease and men's health conditions, especially benign prostatic hyperplasia. The diagram below shows Boston Scientific's growth prospects in women's health.
Article continues below advertisement
Article continues below advertisement
nVision Medical
On April 16, Boston Scientific announced the acquisition of nVision Medical. The deal has added the first and only FDA-approved device that can be used to diagnose ovarian cancer early by collecting cells from fallopian tubes. Due to the lack of reliable early-diagnosis methods, ovarian cancer has emerged as the fifth-leading cause of cancer-related death in women. The company expects this diagnostic platform to become an integral part of its surgical and gynecological business. In the near term, Boston Scientific expects the market opportunity for this platform to be ~$500 million, and for it to rise to $2.0 billion in future years.
Boston Scientific has estimated that ~2 million US women with a family history of BRCA[1.breast cancer gene]1 or BRCA2 mutations face a high risk of developing ovarian cancer. Of these, 400,000 women are expected to benefit from the nVision diagnostic platform in the near future.
Furthermore, this diagnostic platform is expected to help reduce the 300,000 preventative surgeries that are performed annually in the United States for removing ovarian and fallopian tubes. As ~90% of the cases involve benign tissue, Boston Scientific expects to target a significant underserved opportunity with its nVision platform. The company aims to commercially launch this platform in H1 2019.