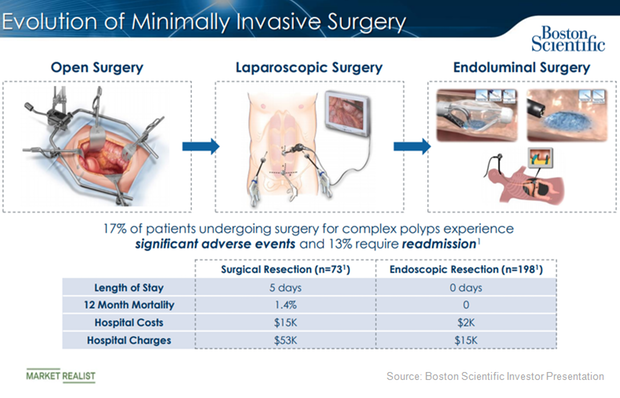 Endoluminal Surgery May Be Opportunity for Boston Scientific
Endoluminal surgery
In June, Boston Scientific (BSX) announced the launch of ORISE, its traction solution used in endoluminal surgery. This solution, which was added to the company's portfolio through the acquisition of LumenR, was used in almost 30 cases in April and May. The company also plans to launch an injectable lifting solution for easy excision of colon tumors in the next few months. It continues to focus on the development of cutting and closure devices used in endoluminal surgery.
The above diagram highlights the advantages of opting for less-invasive endoscopic resection of cancer or pre-cancer tumors compared to surgical resection in terms of length of stay, 12-month mortality, and total costs.
Article continues below advertisement
Article continues below advertisement
Endoluminal surgery market opportunity
According to Boston Scientific estimates, about 2.8 million patients around the world suffer from gastrointestinal cancers. Approximately 6 million patients suffer from pre-cancerous tumors called Barrett's esophagus. Eleven million to 22 million patients are estimated to suffer from adenoma, another pre-cancerous condition. These patients, who would typically undergo surgical resection, offer a significant market opportunity for endoluminal surgical procedures. Boston Scientific estimates that 92% of colon resection surgeries are eligible to be resected endoscopically.
To leverage this opportunity, Boston Scientific is investing in the development of a suite of tools required for endoscopic resections and creating awareness among physicians.
In addition to endoluminal surgery, the company is also focused on the $1 billion worth of consolidated opportunity in the pathology services and infection prevention segment. Boston Scientific estimates the ambulatory surgery center market, a segment of the GI (gastrointestinal) pathology services market, to be worth $600 million in 2018. The infection prevention market is estimated to be worth $425 million in the United States in 2018.
In the next part, we'll take a look at Boston Scientific's efforts to penetrate pathology services and infection control areas in its endoscopy segment.