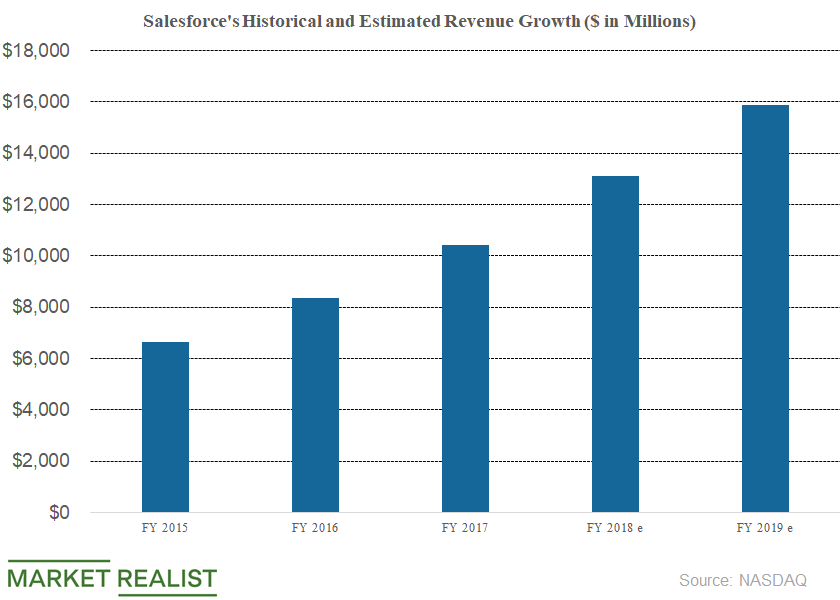 Dropbox Announces Partnership with Salesforce
Dropbox and Salesforce
Earlier this year, Dropbox (DBX) announced a strategic partnership with leading CRM (customer relationship management) firm Salesforce. Dropbox stated that it will integrate Salesforce's CRM platform with its collaboration platform to enable enterprises to connect with customers across verticals including sales, marketing, service, and commerce.
This partnership is aimed at driving brand engagement and improving team productivity. Enterprises will now be able to create customized Dropbox folders within their Salesforce Commerce and Marketing Cloud using the digital asset management solution.
Article continues below advertisement
Article continues below advertisement
How will this partnership benefit Dropbox?
According to Dropbox, a retailer using the Salesforce Commerce Cloud can create a Dropbox folder and access product images as well as creative briefs from its creative agency. The retailer will also be sent notifications if the agency makes a change so the retailer can update online content and deliver an enhanced shopping experience.
Quip and Dropbox
Users can access Dropbox content such as videos, photos, and slides within Salesforce Quip. According to Dropbox's press release, "Dropbox will also add support for Quip documents, allowing joint users to work on Quip files that live in Dropbox, furthering Dropbox's effort to build a unified home for work."
Salesforce will be able to use Dropbox Enterprise, while Dropbox will also expand the use of other Salesforce products such as the Salesforce Marketing Cloud and Service Cloud.