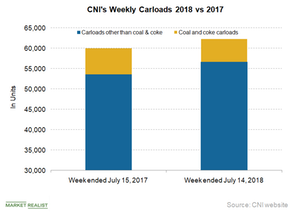 Canadian National Railway and Canadian Pacific in Week 28
By Samuel Prince

Updated
CNR's carloads in Week 28
Canadian National Railway (CNI) is the largest rail freight carrier in Canada. In Week 28, it registered a 3.8% YoY (year-over-year) growth in carload traffic. It moved ~62,300 railcars excluding intermodal units compared with ~60,000 units.
CNI's archrival Canadian Pacific Railway (CP) reported a 13.1% rise in carload traffic in Week 28. Its carload volume gains were much lower than the 9.3% YoY gain posted by Canadian railroad companies. CP's carload traffic growth as a percentage was equal to US rail carriers' gains in the week.
Article continues below advertisement
In Week 28, Canadian National Railway's railcars other than coal (ARLP) and coke and railcars for coal and coke were 91% and 9%, respectively, of total carloads. Railcars sans coal and coke witnessed a 5.6% YoY rise that week. It moved ~56,600 railcars from ~53,600 in the same week last year. Coal and coke railcar volumes contracted 11.7% YoY to ~5,600 units from ~6,300.
Changes in CNR's carload commodity groups
The following carload commodity groups posted volume growth in Week 28:
primary forest products
pulp and paper products
chemicals
non-metallic minerals
metallic ores
stone, clay, and glass
automotive
The following carload commodity groups recorded volume declines in Week 28:
lumber and wood products
grain
grain mill products
food and kindred products
CNI's intermodal traffic in Week 28
Canadian National Railway's intermodal units reported a 2.1% YoY growth in Week 28. As we saw the previous series, CNR's intermodal gains in terms of percentage have narrowed over the last couple of weeks. The trend continued in Week 28 when it moved ~51,000 containers compared to ~49,900 in the same week last year. Unlike other rail carriers' intermodal volumes (GWR), CNI's are represented by containers only.
Canadian National Railway registered a 4.2% YoY gain in railcar traffic including intermodal in the first 28 weeks of 2018. That's higher than US railroads' 3.9% YoY gains and Canadian rail (IYT) companies' 3.8% growth for the same period.
We'll wind up this railroad weekly series in the next part with an assessment of Canadian Pacific Railway's (CP) freight volume trends.