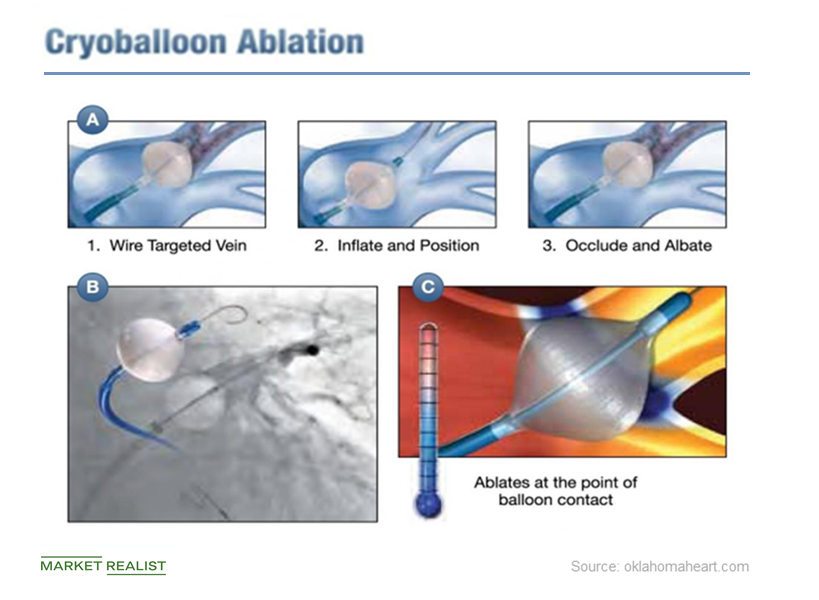 Assessing BSX's Recently Acquired Cryterion Cryoablation Platform
<p>On July 5, Boston Scientific announced its acquisition of Cryterion Medical, which will add Cryterion&#8217;s cryoablation platform to BSX&#8217;s atrial fibrillation treatment portfolio.</p>
Cryterion's single-shot cryoablation platform
On July 5, Boston Scientific (BSX) announced its acquisition of Cryterion Medical, which will add Cryterion's cryoablation platform to BSX's Rhythm Management segment's electrophysiology business's AF (atrial fibrillation) treatment portfolio. Let's discuss this platform in detail.
Cryterion Medical is developing a single-shot cryoablation platform for the treatment of AF, which is the most common form of heart arrhythmia (a condition characterized by irregular heart rhythms that can lead to stroke and other heart diseases).
Article continues below advertisement
Article continues below advertisement
Cryterion's technology platform includes a next-generation balloon catheter, an advanced mapping catheter, and a steerable sheath. It uses cryothermal energy to interrupt the irregular electrical signals that can lead to AF. The balloon catheter in the system is threaded into the heart, and the ablation target is exposed to cold energy as the balloon expands.
Cryterion's single-shot cryoablation balloon technology is not approved in any country yet. It's under clinical study trials in Europe, and the company is expected to file an application for CE mark approval in 2019. In the United States, enrollment for a clinical study for supporting the application for FDA approval is expected to begin next year.
Initial clinical study outcomes
As per a May 2017 systematic review of studies undertaken in the past for the assessment of cryoablation versus radiofrequency ablation therapies, single-shot cryoablation seems to be a promising and effective ablation technology compared to traditional radiofrequency ablation. Moreover, for intermittent AF, in comparison to radiofrequency ablation, the cryoablation technique is characterized by shorter procedure times and learning curves.
According to Keegan Harper, CEO of Cryterion Medical, "Initial clinical study results demonstrate that our system has a promising safety profile as well as acute efficacy. We look forward to bringing this advanced cryoablation system to market with the support of Boston Scientific."
Medtronic's (MDT) Arctic Front cryoablation device is a leading device available in the market for the treatment of AF through cryoablation technology.
In the next article, we'll discuss the market opportunity for cryoablation therapy for AF treatment.
Correction: An earlier version of this article included images of an unrelated product.