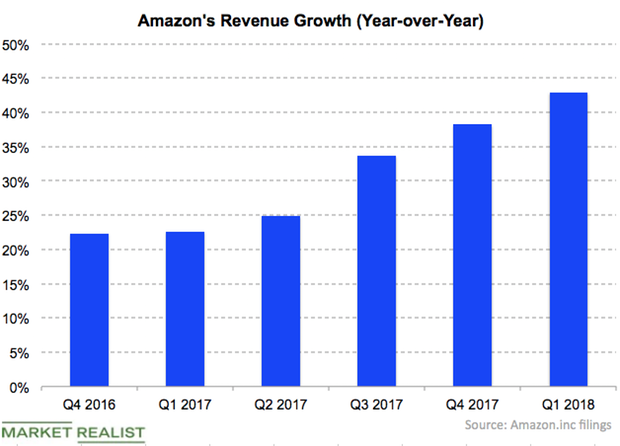 Amazon Just Crossed Another Milestone
Amazon closed at an all-time high on July 11
Amazon (AMZN) stock closed at its highest point ever on July 11, at $1,755. The stock has been slowly rising higher, while broader markets have struggled due to ongoing US trade tensions. It was up 2.5% in the early hours of trading on Thursday, flirting with the $1,800 mark. The stock has risen 47.6% year-to-date, while the S&P 500 has risen only 3.8%.
Amazon trades at a considerable premium to the S&P 500 and still has the potential to move higher. While the company's core e-commerce business operates at razor-thin margins, the hefty margins in its cloud business and burgeoning ad business are delivering higher profitability. These two segments are expected to continue to see tremendous growth.
Article continues below advertisement
Article continues below advertisement
Why Amazon stock is expected to climb further
Amazon's net profits have increased sharply in the last couple of quarters. According to eMarketer, in US ad dollars, Amazon could be third in the space in terms of market share by 2020, and expects its US ad revenue to climb 63.5% to $2 billion this year. Meanwhile, its cloud business has continued to grow by over 40% annually, and it has an annual run rate of ~$22 billion.
Amazon hiked its annual US Prime membership rate to $119 earlier this year, which could boost its revenue growth, as many Americans may be tempted to renew their subscription as Amazon ramps up membership benefits. Prime members tend to spend much more on the platform than regular users.