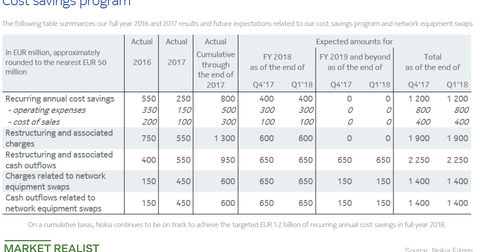 Why Nokia Partnered with HCL Technologies
By Adam Rogers

Updated
Deal expected to drive operational efficiency for Nokia
On June 21, Nokia (NOK) announced a five-year partnership with IT firm HCL Technologies. According to this agreement, HCL is expected to transform and modernize Nokia's IT infrastructure and applications landscape. According to Nokia's press release, "HCL will transition services from four incumbent vendors to establish an integrated IT services delivery & design framework and will implement a transformation roadmap."
This deal is expected to help Nokia to improve its operational efficiencies and achieve previously announced cost savings targets.
Nokia's digital transformation
HCL is expected to leverage its technology services portfolio and provide Nokia with services across several verticals, including cloud orchestration, big data analytics, cybersecurity, and collaborative workplaces. HCL states that it has an impressive track record of delivering transformational services at scale. Nokia considers HCL to be an ideal partner for this initiative.
Cost savings of 1.2 billion euros in 2018
Nokia (NOK) previously forecast recurring annual cost savings of 1.2 billion euros in fiscal 2018. The firm expects to achieve cost savings of 800.0 million euros by reducing its operating expenses. 
However, Nokia stated that its 2018 cost savings could be partially offset by incremental expenses of 100.0 million euros, which are related to 5G customer trials. These temporary expenses are related to material and deployments specific to fiscal 2018, and they aren't expected to impact Nokia's operating margin in fiscal 2019 and beyond.