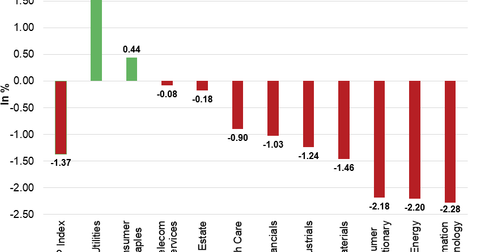 US Markets Are Weak amid Tech Sell-Off and Trade War Concerns
By Val Kensington

Updated
US markets
The S&P 500 pulled back last week and broke the three-week gaining streak. Carrying forward the weakness, the S&P 500 opened lower on Monday and declined to the lowest levels traded in June. On June 25, nine out of 11 major S&P 500 sectors closed the day lower. Weakness in the IT, energy, and consumer discretionary sectors weighed on the market. However, strength in the utilities and consumer staples sectors limited the market losses.
Market sentiment
The escalating trade war between the US and China dented the global market sentiment on Monday. US markets opened lower on Monday following  Asian and European markets' weak performance. Reports that the U.S. Department of the Treasury plans to restrict companies with 25% or more Chinese ownership from buying US technology companies triggered a sell-off in the IT sector on Monday and weighed on the market. The energy sector also weighed on the market. Crude oil pulled back on Monday and weakened the energy sector. Investors are digesting OPEC's decision to increase the oil output by 1 million barrels per day.
The SPDR S&P 500 ETF (SPY) fell 1.4% to $271 on June 25.
Volatility
The CBOE Volatility Index (or VIX) measures uncertainty in the market. The index rose 25.9% to 17.33 on June 25. The index is measured on a scale of one to 100 with 20 as the historical average. The VIX is also called the "fear index." Usually, the index has an inverse relationship with stocks and rises when the S&P 500 falls.
NASDAQ and Dow
The NASDAQ Composite Index (QQQ) closed lower last week and broke the four-week gaining streak. On Monday, the tech-heavy NASDAQ Composite Index pulled back amid the sell-off in the IT sector. Increased concerns about the US-China trade war weighed on the Dow Jones Industrial Average (DIA) on Monday. The Dow Jones Industrial Average declined 1.3% and closed the day at 24,252.80.
Next, we'll discuss the S&P 500's top gainers on June 25.