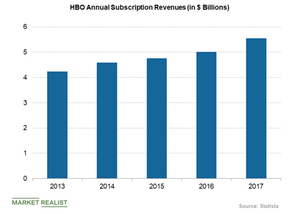 Understanding the Impact of the AT&T–Time Warner Merger
By Sophia Nicholson

Nov. 20 2020, Updated 12:20 p.m. ET
AT&T–Time Warner merger
AT&T (T) and media company Time Warner (TWX) finally received merger approval from a federal judge on June 12. It came after a six-week court battle against the United States Department of Justice (or DOJ). The companies, which agreed on a merger deal in October 2016 for $85.4 billion, are now expected to close the deal by next week.
Article continues below advertisement
Merger benefits
AT&T's merger with Time Warner will give the telecommunications company access to Time Warner's attractive media assets to compete with growing digital rivals. The assets include HBO, the Turner Broadcasting film studio, TNT, TBS, CNN, and a stake in Internet video provider Hulu. These acquisitions will help the company grow its revenues through content distribution. The company's control over CNN, HBO, and Turner TV could make for compelling offers if combined with wireless subscriptions and unlimited data plans.
HBO delivers motion pictures, original TV series, movies, boxing matches, and occasional stand-up comedy and concerts. In 2017, HBO's subscription revenue increased to $5.5 billion from $4.2 billion in 2013.
AT&T will also be able to create a new variety of online video using high-quality Time Warner media content. It should be able to sell ads at a higher rate, which will thereby boost AT&T's targeted advertising business. Amid a declining pay-TV subscriber base, AT&T believes the merger will help it diversify its business.
Growing demand for media assets
Telecommunications and media companies have been trying to get a stake in media assets due to the increasing demand for original series and sports content. For instance, the Walt Disney Company (DIS) has agreed to buy Twenty-First Century Fox's film and television assets. But Comcast recently offered a higher bid for Sky Plc, one of Fox's assets. Verizon (VZ), Amazon (AMZN), Fox, and others are also pushing hard to acquire sports rights for NFL[1. National Football League] games across its various digital platforms.