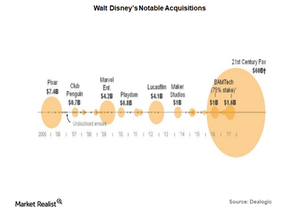 Understanding Walt Disney's Deal with 21st Century Fox
Disney to acquire Fox's specific media and entertainment assets
In December 2017, the Walt Disney Company (DIS) announced its plans to buy some of the assets of 21st Century Fox (FOXA) for an equity value of ~$52.4 billion.
Including roughly $13.7 billion of 21st Century Fox's net debt, the total transaction value comes to ~$66.1 billion. The merger is expected to consummate in late 2018 or early to mid-2019.
Article continues below advertisement
Article continues below advertisement
Terms of the deal
As per the deal, Disney will take over 21st Century Fox's film and television units, including FX and National Geographic, along with its cable and significant TV businesses, including Star Network and Sky Disney.
The management of 21st Century Fox will keep its news and sports assets, including the rights to Fox News, the Fox Broadcasting Company, Fox Sports, Fox Business, and its US regional TV stations. Additionally, 21st Century Fox will retain its studio lot in Los Angeles and its equity investment in Roku. With its news, broadcast, and sports businesses, 21st Century Fox will spin off into a newly listed company—Fox—just before the acquisition.
The acquisition will give Disney access to Fox's massive collection of movies and television programming. Disney will also offer two direct-to-consumer offerings: one for sports and one that includes its key franchises such as Star Wars and the Marvel Cinematic Universe.
Regulatory clearance
The deal is currently awaiting regulatory approval, though getting clearance seems difficult because a Disney-Fox combination would involve two heavyweight content players. A horizontal merger usually attracts high regulations because it reduces the number of market players and removes competition. Comcast (CMCSA), Verizon Communications, and Sony were also in the race with Disney to buy 21st Century Fox.
However, according to a recent CNBC report, Comcast is willing to outbid Disney's $52.4 billion offer if the federal judge approves the $85.4 billion merger deal (announced in October 2016) between telecommunications biggie AT&T (T) and content giant Time Warner (TWX). Currently, the United States Department of Justice has filed a lawsuit to block the merger.