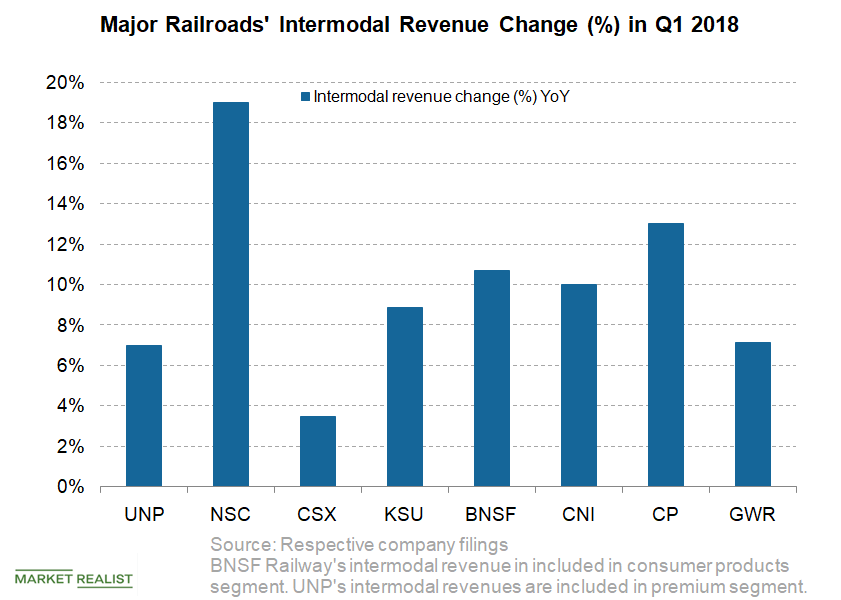 This Railroad Led in First-Quarter Intermodal Revenue Growth
US railroads and intermodal
Intermodal is the second-largest revenue source for US railroads (FXR). Intermodal freight haulage involves cargo transportation in an intermodal container using various modes of transportation without handling the cargo itself while switching over modes. Railroads face tough competition from trucking companies in their intermodal operations.
Article continues below advertisement
Norfolk Southern: The intermodal leader
Norfolk Southern (NSC), an Eastern US railroad, reported the highest intermodal revenue growth of 19% YoY (year-over-year) among its peers in the first quarter. Its intermodal revenue rose to $678 million that quarter, from $571 million in Q1 2017. A 12% growth in domestic intermodal volumes due to highway-to-rail conversion, strong pricing gains, and increased average revenue per unit boosted NSC's intermodal revenues.
NSC was followed by Canada's second-largest freight rail, Canadian Pacific Railway (CP). Its intermodal revenues expanded 13% YoY to $367 million, from $325 million in Q1 2017. An 18.2% rise in intermodal containers and truck trailers and a 5% growth in average revenue per unit led CP's intermodal revenue growth.
Berkshire Hathaway–owned BNSF (Burlington Northern Santa Fe) Railway reported a 10.7% YoY growth in intermodal revenue. Its intermodal revenues are included in the Consumer Product segment along with automotive revenues. Increased domestic intermodal and international intermodal volumes due to an improved economy and tighter truck capacity drove BNSF's intermodal revenues.
Article continues below advertisement
Canada's largest rail freight carrier, Canadian National Railway (CNI), saw its intermodal revenues rise 10% YoY in the first quarter to 814 million Canadian dollars, from 742 million Canadian dollars. Revenue growth was primarily due to higher international container traffic through the ports of Prince Rupert and Vancouver, along with increased fuel surcharge revenue.
Kansas City Southern's (KSU) intermodal revenue rose 8.9% YoY to $90.9 million, from $83.5 million in Q1 2017. While KSU's intermodal traffic grew 8% YoY, its average revenue per intermodal railcar remained unchanged. Newly launched cross-border services, as well as tight truck capacity, pushed KSU's intermodal revenue in the first quarter.
Union Pacific's (UNP) intermodal revenue growth of 7% YoY was the second-lowest among the major US railroads. The company's intermodal revenues are included in its Premium segment, which reported a 2% YoY volume rise and a 5% growth in average revenue per the segment's railcars in the first quarter.
CSX's intermodal growth was the lowest
CSX (CSX) witnessed a 3.5% YoY rise in intermodal revenue to $449 million, from $434 million in Q1 2017. Its intermodal volumes were unchanged, but its intermodal revenue per unit rose 3% YoY. Volume growth has remained a concern for CSX, even though 2018 has been dubbed the year of robust intermodal growth for US Class I railroads.
In the next part of this series, we'll take a look at freight volume changes for the major railroads.