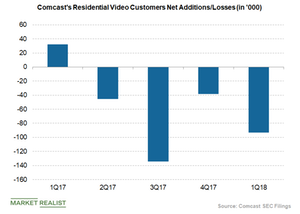 The Impact of the AT&T–Time Warner Merger
AT&T–Time Warner merger outcome
The proposed merger between telecom behemoth AT&T (T) and media conglomerate Time Warner (TWX) have been facing trials in the US federal court. The US Department of Justice filed a lawsuit seeking to block the $85.4 billion deal on antitrust grounds.
On June 12, after a six-week trial, both parties expect to know the merger outcome. This outcome is expected to not only decide the future of AT&T and Time Warner but could also give direction to future deals in the media, technology, and entertainment industries.
Article continues below advertisement
What if AT&T prevails in court?
Craig Moffett, senior research analyst at MoffettNathanson, believes that AT&T has an 80% chance of prevailing in court. If AT&T wins in court the merger with Time Warner could help the telecom company diversify its business amid a declining pay-TV subscriber base.
OIn this event, AT&T would obtain Time Warner's attractive media assets to compete with its growing digital rivals. Time Warner is also expected to benefit from AT&T's broad subscriber base.
The merger of AT&T and Time Warner would also be expected to impact future deals. There is also a possibility of a CBS–Viacom reunion or Verizon hunting for a content giant.
Other deals like Walt Disney's (DIS) proposed acquisition of 21st Century Fox's (FOXA) assets, as well as Comcast's (CMCSA) potential counteroffer for Fox's assets, are also dependent on the outcome of the proposed AT&T–Time Warner merger.
The approval of AT&T's acquisition of Time Warner is also expected to invite more bidders for Fox and Sky, as both companies have the same global scale and attractive content portfolios.
According to industry sources, Comcast believes that the ruling could be made in AT&T's favor, allowing Comcast to bid for Fox's assets. For Comcast, the acquisition of both Fox and Sky is critical, as the media giant is trying to expand globally to compete with Disney.
The addition of Fox's media assets and Sky's content portfolio could also help the company combat growing digital rivals, as Comcast is losing video customers. Comcast is also expected to boost its revenues with the deal.