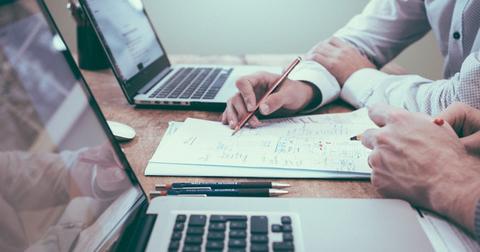 Square Expects $300 Million Revenue Boost from Weebly
By Neha Gupta

Updated
Square raises 2018 revenue guidance
Square (SQ) has updated its 2018 revenue guidance to reflect the impact of the Weebly acquisition. Weebly is a website-builder that Square acquired last month for $365 million.
After closing the Weebly transaction in late May, Square raised its revenue outlook to show that it's expecting a top-line boost of at least $300 million from Weebly in 2018. It raised its 2018 revenue outlook to $3.03 billion–$3.09 billion. Its previous forecast was $3 billion–$3.06 billion.
Weebly to contribute recurring revenue
Square generated $2.2 billion in revenue last year, while its rival PayPal (PYPL) reported revenue of $13.1 billion. Amazon (AMZN), MoneyGram (MGI), and Western Union (WU) reported revenues of $177.9 billion, $1.6 billion, and $5.5 billion, respectively, last year.
The acquisition of Weebly is expected to give Square recurring revenue and a wider customer reach. Weebly reaches millions of customers and has more than 625,000 paid subscribers.
Square eyeing online expansion
While Square is eager to expand online, PayPal is looking to expand in stores, which led to both companies making their largest acquisitions ever. The $365 million purchase of Weebly is Square's largest acquisition, while PayPal's $2.2 billion purchase of iZettle is its largest acquisition ever.
Like Square, iZettle is a provider of POS (point-of-sale) terminals, which allow traders of all sizes to accept card-based payments.