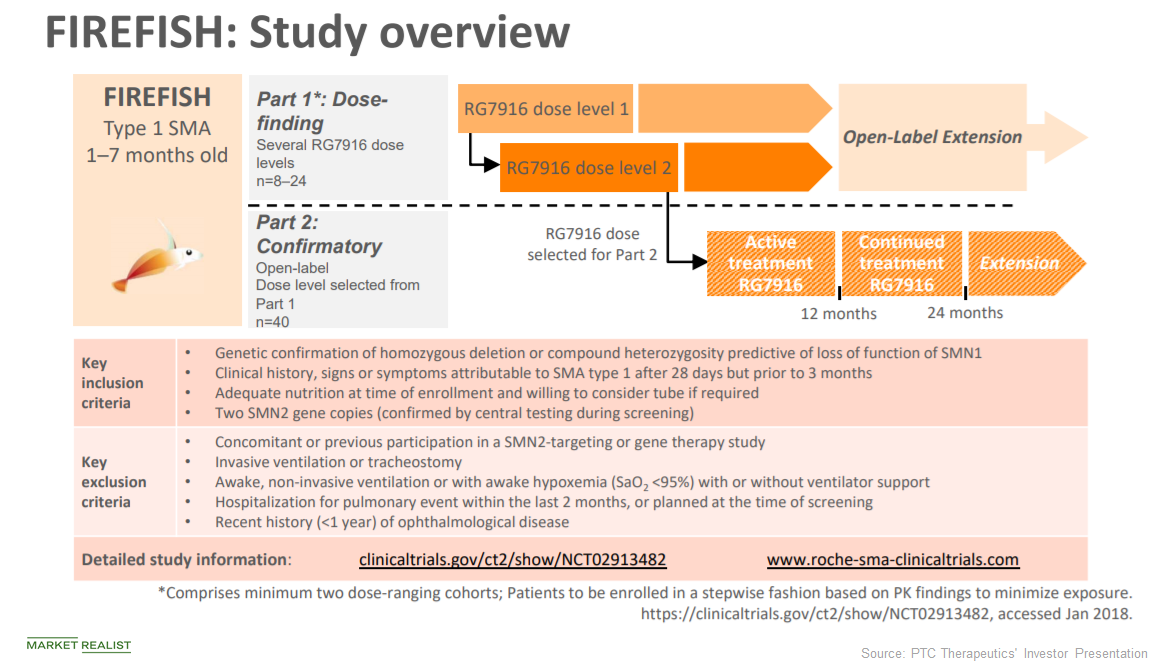 Risdiplam: Could It Be PTC Therapeutics' Future Growth Driver?
Update on FIREFISH trial
In June, PTC Therapeutics (PTCT) presented its updated interim clinical data from the Phase 1 FIREFISH trial, which is evaluating the safety profile of risdiplam (RG7916) in babies with type 1 SMA (spinal muscular atrophy).
The trial demonstrated that more than 90% of the babies with SMA achieved greater than a 4-point increase in the CHOP-INTEND (Children's Hospital of Philadelphia Infant Test of Neuromuscular Disorders) score compared to the baseline. CHOP-INTEND is a standard test designed to measure motor improvements in patients with SMA type 1.
In the FIREFISH trial, at Day 56, Day 119, and Day 182 of therapy, CHOP-INTEND scores were 5.5 points, 12.5 points, and 14 points, respectively. On those days, 75%, 94%, and 91% of patients, respectively, achieved greater than the 4-point increase from the CHOP-INTEND baseline.
Article continues below advertisement
About risdiplam
Risdiplam is an investigational splicing modifier administered orally that targets the survival motor neuron 2 (or SMN2) RNA and restores a functional transcript.
PTC Therapeutics is conducting various clinical trials to evaluate the safety and efficacy of risdiplam. It's conducting Phase 1 of the SUNFISH trial, which is evaluating the safety, tolerability, and pharmacokinetic profile of various risdiplam dose levels for the treatment of individuals with SMA type 2 or SMA type 3.
It's also conducting the JEWELFISH trial to establish the safety and tolerability of risdiplam in individuals who previously participated in a trial with another targeted SMN2 splicing therapy.
Studies estimate that one in every 11,000 children born is affected with SMA. Risdiplam could give stiff competition to Biogen's (BIIB) and Ionis Pharmaceuticals' (IONS) Spinraza. Risdiplam, if approved, could face stiff competition from Novartis's (NVS) investigational drug AVXS-101, which also showed positive results in clinical trials.