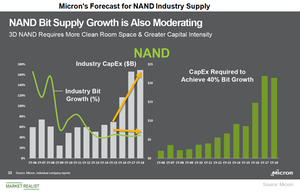 Micron Expects Stable Growth in NAND Industry Supply
By Puja Tayal

Updated
NAND industry supply
Micron Technology (MU) expects NAND (negative AND) demand to grow faster than DRAM (dynamic random-access memory) as an increasing amount of data create the need for more storage space.
This growing demand saw memory chip makers such as Samsung (SSNLF), SK Hynix, Intel (INTC), Micron, and Western Digital (WDC) invest in new NAND capacity.
Even though memory players are expanding their NAND capacity, Micron expects NAND industry supply to grow at an average annual rate of 40% beyond 2018, in line with NAND demand growth. Micron's CEO, Sanjay Mehrotra, explained the basis for this NAND supply forecast at the company's 2018 Investor Day.
Article continues below advertisement
NAND becomes capital intensive
Mehrotra stated that the capital required to manufacture NAND increased significantly in 2016 as the industry transitioned from 2D to 3D NAND. The first generation 32-layer 3D NAND brought a significant increase in the number of bits produced per wafer compared to its 2D predecessor.
However, the increase in bits per wafer slowed while capital spending increased with every successive node transition. Hence, the industry's supply growth has been more or less stable at ~40% since 2015, and it's expected to remain near 40% despite the increase in capital spending.
Micron's position in the NAND market
In the case of Micron, the company has been investing in advanced nodes in order to achieve a better return on investment and stay ahead of its competitors. Back in 2013, when Micron manufactured 20 nm (nanometer) MLC (multi-level cell) 2D NAND, it was at a 65% cost disadvantage to its competitors. At that time, Samsung lead the market.
Over the years, Micron's investments in advanced nodes have made it a technology leader in 3D NAND, with more than a 15% cost advantage over its competitors in 2017. Next, we'll look at Micron's strategy to scale down its NAND technology.