Medtronic's Key Growth Driver: MiniMed 670G Hybrid Closed Loop
Medtronic's Diabetes Group performance in fiscal Q4 2018 was driven by a 25% growth for its MiniMed 670G hybrid closed-loop insulin pump.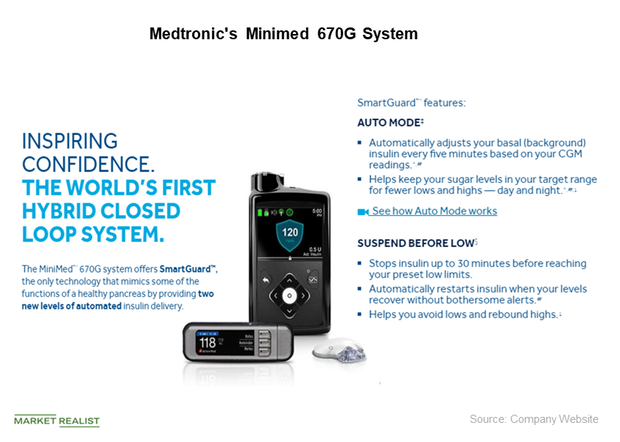 MiniMed 670G drives Medtronic's Diabetes Group
Medtronic's DG (Diabetes Group) performance in the fiscal fourth quarter of 2018 was driven largely by a 25% growth for its MiniMed 670G hybrid closed-loop insulin pump. The segment reported strong sales of $645 million, representing a year-over-year growth of 21.3% on a constant currency basis.
Medtronic faced some weakness in its DG segment earlier in fiscal 2018 due to a high demand for its MiniMed insulin pumps and sensor supply constraints. However, the company has overcome those challenges and completed its sensor capacity expansion efforts, ending the fiscal fourth quarter with no back orders.
Article continues below advertisement
Article continues below advertisement
MiniMed 670G growth and future prospects
Medtronic has registered stellar sales growth of its MiniMed 670G insulin pump since its US launch in June 2017. It has seen strong use of its sensors and CGM (continuous glucose monitoring) devices. There are currently more than 70,000 MiniMed 670G users who continue to give positive feedback. The company expects strong growth for the insulin pump in the years ahead.
Outside the United States, Medtronic continues to expand its MiniMed 640G presence in more geographies. It was recently approved in Japan. The company is also gearing up for international launches of the device.
Changing diabetes business mix brings stability to sales
Medtronic is shifting its customer base from stand-alone pumps to sensor augmenting systems, which has led to an increase in sales for its CGM sensors. The company is seeing an increasing revenue mix from the sensors, which provides a more stable revenue stream for the Diabetes Group segment.
In the next part, we'll look at the company's recently approved Guardian Connect CGM system.
Check out all the data we've added to our quote pages. Now you can get a valuation snapshot, earnings and revenue estimates, and historical data, as well as dividend information. Take a look!