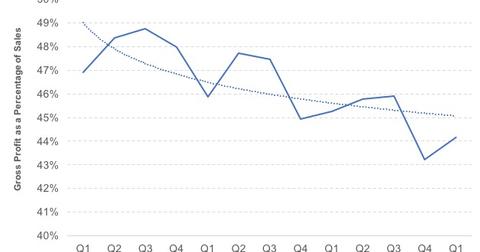 Is Under Armour on the Path to Improved Profitabilty?
By Sonya Bells

Updated
Under Armour's margins hit by rising inventories
Rising inventories and slowing sales have hit Under Armour's (UAA) profitability hard in recent quarters. Its gross margin has fallen for the past 12 quarters. It declined 120 basis points to 44.2% in the most recent quarter, which ended on March 31. Management noted that it was impacted by more aggressive initiatives for inventory management.
The company recorded adjusted net income of ~$1 million, which resulted in a net margin of only 0.1%.
Analysts turn positive on UAA's improving profitability
Analysts believe that Under Armour is on the path to improved profitability. Stifel analyst Jim Duffy recently said in a note released in early June, "With the recent market evidence that performance athletic demand and channel inventories are healthy, we have increased confidence that inventories will be appropriately matched to demand before year-end and margins will inflect and margin improvement can continue in 2019 and beyond." He added, "Recent discussions with Under Armour leave us highly encouraged by leadership commitments to profitability improvement."
Duffy's positive note followed Jefferies analyst Randal Konik's note a month ago. Konik sounded positive about Under Armour's improving product designs and improving fundamentals. He said, "Under Armour fundamentals are poised to inflect, with the top line accelerating and margin erosion lessening, supported by progressively cleaner inventory." He added, "Better product, better management of the business, improved cost structure…low expectations, and hatred by the Street means this stock should go higher, he added.
Next, let's see what Wall Street thinks about Under Armour.