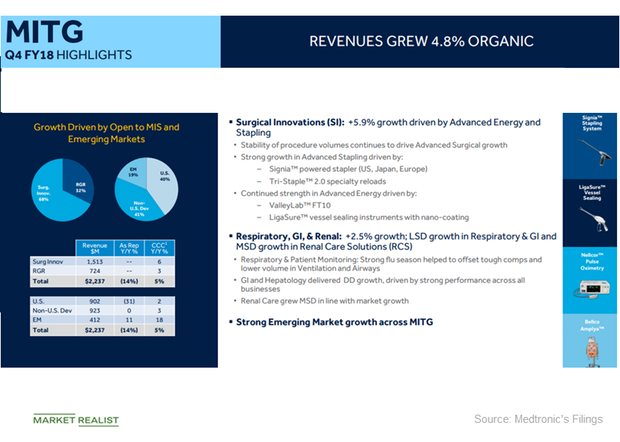 Innovative Products Driving Medtronic's Growth
Products driving MITG growth
Medtronic (MDT) operates in four segments: CVG (Cardiac and Vascular Group), MITG (Minimally Invasive Therapies Group), RTG (Restorative Therapies Group), and DG (Diabetes Group).
The MITG segment consists of the SI (Surgical Innovations) and RGR (Respiratory, Gastrointestinal & Renal) divisions. The segment is expected to continue to be strong in the SI division, which is driven by the growth momentum of new innovative product launches in Advanced Energy and Advanced Stapling. Those products include the Signia surgical stapling system, Tri-Staple 2.0 reloads, and the Valleylab FT10 energy platform.
The new LigaSure vessel sealing device is also expected to continue to help grow the SI division. The growth in surgical procedures conversion from open to minimally invasive procedures is also a key factor that's driving the company's MITG segment.
Article continues below advertisement
Growth expectations in fiscal 2019
Medtronic expects its MITG segment to have an organic growth rate of 4% in fiscal 2019, which is at the lower end of the company's total sales guidance of 4%–4.5%. That's because the company expects MITG to be partially impacted by difficult comparisons from Endo stapling in the previous year. However, the company expects to see consistent growth in its surgical technologies product portfolio. The MITG segment is expected to be driven by continued strong growth in emerging markets.
Medtronic's recent MITG segment performance
In the fiscal fourth quarter of 2018, Medtronic had sales of $2.2 billion for its MITG segment, which represented a year-over-year rise of 4.8% on a comparable constant currency basis. The segment's SI and RGR divisions saw sales growth of 5.9% and 2.5%, respectively, on a comparable constant currency basis.
In the next part of this series, we'll look at the key growth drivers for Medtronic's RTG segment, which had its best performance in more than eight years in the fiscal fourth quarter.
Check out all the data we've added to our quote pages. Now you can get a valuation snapshot, earnings and revenue estimates, and historical data, as well as dividend information. Take a look!