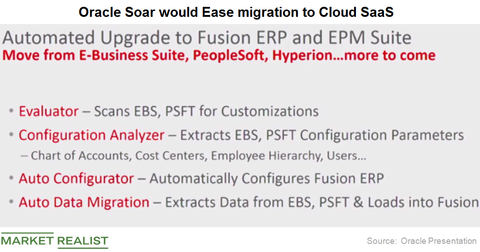 How Oracle's Soar Could Increase Migration to the Cloud
By Anne Shields

Updated
Soar eases migration to the cloud
So far in this series, we've discussed Oracle's (ORCL) position in the cloud space along with the factors that are causing the company to grow less than the overall market. 
Last week, at the Oracle Conference Center on June 5, Oracle launched a new offering for Oracle Cloud SaaS (software-as-a-service) called Oracle Soar. Oracle Soar is a package of tools aimed at helping speed up the migration of on-premises enterprise resource planning (or ERP), human capital management, supply chain management (or SCM), enterprise performance management (or EPM), and personalized offers to SaaS offerings.
According to Larry Ellison, Oracle's cofounder and chief technology officer, Soar eases the migration of the company's E-Business Suite to its cloud applications.
Soar's target audience
Oracle is a leading player in the enterprise software space and has a huge install base in Applications Unlimited. Oracle's Applications Unlimited offerings include JD Edwards, E-Business Suite, and PeopleSoft, a segment targeted by Soar.
Oracle Soar is available now for Oracle PeopleSoft, Oracle E-Business Suite, and Oracle Hyperion Planning customers who are moving to Oracle SCM Cloud, Oracle ERP Cloud, and Oracle EPM Cloud.
Amazon (AMZN), the undisputed leader in the overall cloud space, also has a migration tool, Amazon Web Services Migration Hub. Workday (WDAY) has the Lifecycle Deployment Program to help its customers. However, according to Beth Boettcher, Oracle's senior vice president of North American applications consulting, Oracle Soar differs from comparable migration tools because it offers a more exhaustive solution with the addition of educational and consulting services.
Boettcher said, "This is absolutely unique compared to what any competition is doing in the marketplace."