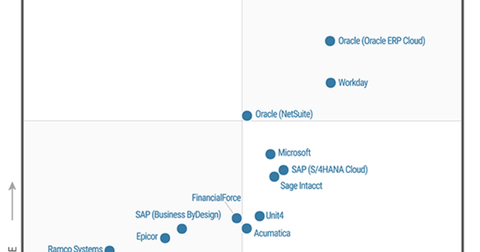 How Oracle's Soar Could Help It in the Cloud Space
By Anne Shields

Updated
Oracle Soar will enable "the last upgrade you'll ever do"
Earlier, we discussed Oracle's (ORCL) newest offering, Oracle Cloud, which will ease the migration of ERP (enterprise resource planning) systems to the cloud. 
According to Oracle, Oracle Soar is "the world's first automated enterprise cloud application upgrade product" through which the company is facilitating the migration of on-premises ERP customers to the cloud and accelerating the shift to the company's Fusion offerings.
According to chair and chief technology officer Larry Ellison, "It's now actually an easier upgrade to go from Oracle E-Business Suite to the cloud than from one version of Oracle E-Business Suite to another. Once you're in the cloud, that's the last upgrade you'll ever do."
With the new offering, additional features such as security with machine learning and autonomous databases will facilitate the system's "learning" a business to eliminate rote work and make logical recommendations.
There is also a voice interface for developers to enhance implementation and chatbot development. Fusion ERP is built on the company's Visual Builder Cloud Service.
Oracle ERP Cloud is a leader
According to the above presentation by Gartner, Oracle ERP Cloud, which has more than 4,000 customers, is a leader in Gartner's Quadrant of Cloud Core Financial Management Suites. 
Given the rising competition in the cloud space, with Amazon (AMZN), Microsoft (MSFT), IBM (IBM), Google (GOOG), and Alibaba (BABA) being the top five players, Oracle is aggressively trying to differentiate its cloud offerings so that its current customer base shifts to its software-as-a-service offerings.