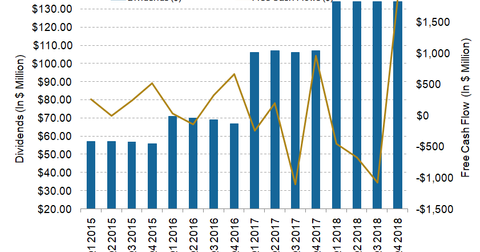 FedEx's Free Cash Flow before Its Dividend Payment
By Samuel Prince

Updated
FedEx's dividend payout
FedEx (FDX) reported an adjusted diluted EPS of $15.31 in fiscal 2018. On an annualized basis, the quarterly dividend of $0.65 accounts for $2.60 per share, which translates into a dividend payout ratio of 17%. FedEx's current dividend payout is much lower than UPS's (UPS) dividend payout ratio of 54%. FedEx has grown its dividend payout ratio consistently in the last few quarters.
Article continues below advertisement
FedEx's FCF
The FCF (free cash flow) denotes the remaining cash after deducting the capital expenditure from the operating cash flow. The FCF is used for stock buybacks and dividend payments. Since fiscal 2014, FedEx has repurchased 17.5 million common shares for $10.0 billion at an average price of $147.0 per share.
The above chart shows that FedEx reported a negative FCF in seven out of 16 quarters. Usually, the free cash flow is positive in the fourth quarter of every fiscal year. In the fourth quarter of 2018, FedEx's FCF was $1.8 billion. FedEx's FCF declined to $880.0 million in 2016 from $1.02 billion in 2015. In fiscal 2017 and 2018, the free cash flow was -$186.0 million and -$989.0 million, respectively.
FedEx didn't issue its guidance for the fiscal 2019 FCF levels in its fourth-quarter earnings transcript. The company expects to generate very strong cash flows in fiscal 2019. UPS has a strong positive FCF level. The company's FCF was a little lower than $1.5 billion in 2017—down 58% from $3.5 billion in 2016. UPS's FCF levels are high enough to support its increased dividend. Going forward, tax savings from the Tax Cuts and Jobs Act should boost FedEx's FCF levels.
XLI
The transportation and logistics sector is included in the industrial sector. Investors interested in indirect investment in industrial sector stocks might consider investing in the Industrial Select Sector SPDR Fund (XLI). XLI invests 11.4% in major US airline companies like Delta Air Lines (DAL) and JetBlue (JBLU) and 9.8% in US railroad companies like Union Pacific (UNP).
Next, we'll see how FedEx's dividend yield compares to its peers.