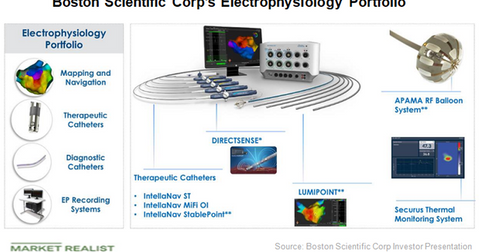 Boston Scientific's Electrophysiology and Neuromodulation Areas
By Kenneth Smith

Updated
Electrophysiology business
Worldwide revenues of Boston Scientific's (BSX) electrophysiology business, which includes less invasive medical technologies for rate and rhythm disorders of the heart, grew 20% from $64 million in Q1 2017 to $75 million in Q1 2018. Electrophysiology revenues from the United States increased from $32 million in Q17 to $35 million in 1Q18.
The business's international revenues increased from $32 million in Q1 2017 to $39 million in Q1 2018. That includes a portfolio of therapeutic and diagnostic catheters and capital equipment used in electrophysiology labs. The increase in electrophysiology sales was primarily due to increased sales of Boston Scientific's Rhythmia Mapping System, related therapeutic and diagnostic catheters, and accessories.
Article continues below advertisement
Neuromodulation business
Boston Scientific's neuromodulation business develops and manufactures devices for treating various neurological movement disorders and manage chronic pain. Total revenues from neuromodulation increased from $141 million in Q1 2017 to $169 million in Q1 2018. About $131 million of that was from US sales in Q1 2018 compared with $116 million in Q1 2017. International neuromodulation revenues increased from $25 million in Q1 2017 to $38 million in Q1 2018.
The increase in neuromodulation sales was due to the continued adoption of the Precision Montage Spinal Cord Stimulator, the launch of the Spectra WaveWriter SCS (spinal cord stimulator) System, the Vercise DBS (deep brain stimulation) System in the United States, and an increase in international sales.
Focus on emerging markets
Boston Scientific's revenues from emerging markets increased from $208 million in Q1 2017 to $255 million in Q1 2018. The market includes 20 countries for which the company believes there is strong growth potential based on economic conditions, healthcare sectors, and global capabilities.
In the next part of this series, we'll look at the performance of Boston Scientific's Cardiovascular segment.