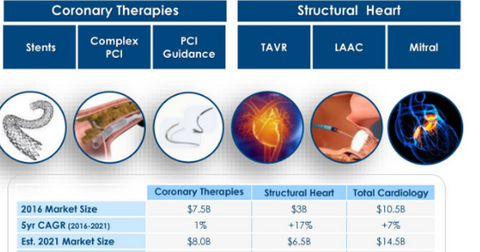 Boston Scientific's Cardiovascular Segment: Q1 2018 Performance
By Kenneth Smith

Updated
Cardiovascular segment
Boston Scientific's (BSX) Cardiovascular segment is comprised of cardiology and peripheral interventions. The segment's net sales increased from $851 million in Q1 2017 to $933 million in Q1 2018. Its operating income was $290 million, or 31.1% of the segment's revenues, in Q1 2018, up from $233 million, or 27.3% of the segment's revenues, in Q1 2017.
Article continues below advertisement
Interventional cardiology
Worldwide interventional cardiology sales increased 10%, from $590 million in Q1 2017 to $645 million in Q1 2018. Of the Q1 2018 amount, $281 million came from the United States, and $364 came from international sales. In comparison, the United States contributed $278 million and international sales contributed $312 million to total interventional cardiology sales in Q1 2017.
In interventional cardiology, technologies for diagnosing and treating coronary artery disease and other cardiovascular disorders are developed and brought to market. The increase in interventional cardiology sales was attributed to higher complex percutaneous coronary intervention product sales due to new launches, partially offset by pricing challenges in the global drug-eluting coronary stent market.
Peripheral interventions
Boston Scientific's peripheral interventions business develops and manufactures products for diagnosing and treating peripheral arterial diseases as well as various forms of cancer. Sales increased from $261 million in Q1 2017 to $288 million in Q1 2018. Sales from the United States increased from $142 million in Q1 2017 to $145 million in Q1 2018.
International sales increased at a faster pace, from $119 million in Q1 2017 to $142 million in Q1 2018. The increase was driven by growth in Boston Scientific's core franchises, including its stent portfolio, its drug-eluting products franchise, and its atherectomy systems.
In the next part of this series, we'll take a look at Boston Scientific's financial performance.