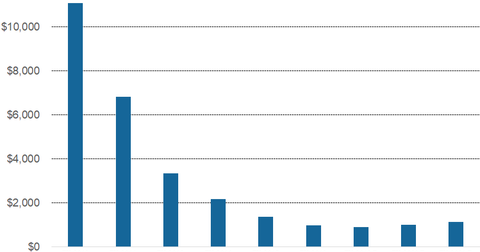 BlackBerry's Performance Highlights in Fiscal 2018
By Adam Rogers

Updated
Strategy and innovation
We know that BlackBerry (BB) exited the smartphone market in 2016 due to competition from smartphone giants Apple, Samsung (SSNLF), and China's (FXI) Huawei, OPPO, Vivo, and Xiaomi. BlackBerry then pivoted to a high-margin, software-based business model by leveraging its expertise in security, mobile-first, and embedded systems, and by gaining traction in the EoT (Enterprise of Things) market.
Due to BlackBerry's business transition, its revenue fell from ~$2.2 billion in fiscal 2016 to ~$1.4 billion in fiscal 2017 and $967 million in fiscal 2018. In fiscal 2018, it invested 23% of its total revenue in research and development. It now has 37,500 patents and 18 development centers in seven countries.
In the previous part of this series, we saw how BlackBerry has achieved operating profitability for eight consecutive quarters, while EBITDA has been positive for 15 consecutive quarters.
Article continues below advertisement
More than 80% of revenue is in Software & Services
BlackBerry's Software & Services business accounts for 81% of its total revenue. The company has more than 80 security certifications and a cybersecurity operations center. Its client base includes nine of the ten largest commercial banks and insurance companies, eight of the ten largest healthcare and aerospace and defense companies, and all the G7 (Group of Seven) governments.
Will investors and analysts be encouraged by BlackBerry's pivot to software? Or will they have a wait-and-watch approach to see if it continues to grow in this space over the next few quarters?