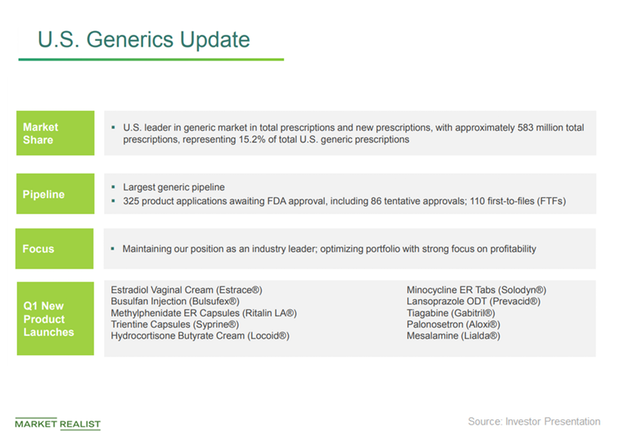 A Look at Teva's Generic Drugs Research Pipeline
Teva Pharmaceutical's research pipeline
Teva Pharmaceutical Industries (TEVA) is the largest generics pharma manufacturer in the world. However, as its blockbuster drug Copaxone recently lost its patent, it reported declining sales in fiscal 2017. This trend was triggered by increased generics market competition.
In particular, the FDA is approving generics versions of branded drugs more rapidly to shift toward a more affordable healthcare structure. However, the company has been executing its restructuring plan laid down in December 2017. Teva is on track to achieve targeted cost reductions and revenue growth. The company is focused on R&D (research and development) and organic growth.
Article continues below advertisement
Teva's generics product pipeline
Teva Pharmaceutical Industries has the largest generics product pipeline in the industry. It has 325 applications that are awaiting FDA approval, 86 of which are tentative approvals and 110 first-to-files (or FTFs). Tentative approvals are provided to certain drugs that are ready for approval even when the originator drug's patent hasn't expired.
The FDA delays the final approval until all patent and exclusivity issues are resolved. FTF applications give a company an exclusivity period during which the company can launch the drug. This can lead to substantial gains for the company, as it could capture significant market share.
Be sure to check out all the data we've added to our quote pages. Now you can get a valuation snapshot, earnings and revenue estimates, and historical data, as well as dividend information. Take a look!