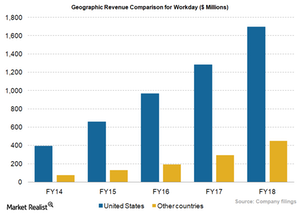 Workday Generates Strong Business Growth outside the US
Overseas market growth
Growing demand for cloud services has helped Workday (WDAY) maintain robust growth in business in the US and in international markets. In the last five years, the company's international business has easily outpaced its domestic revenue growth, driven by huge demand for human capital management. This service includes workforce lifecycle management, organization management, compensation, performance management, and employee benefits.
Integration of its analytics and data protection service with its human capital and financial management service offers added benefits to the customers. In the last five years, Workday's international business grew at a CAGR (compound annual growth rate) of 57.0%.
Article continues below advertisement
Article continues below advertisement
US market performance
From the graph above, we can see Workday's revenue growth in the last five years. The company maintained a double-digit growth trend during the period. In fiscal 2018, the revenues from its overseas market came in at ~$449.0 million, an increase of 54.0% YoY (year-over-year).
The US market, which represents nearly 80.0% of its total revenues, maintained robust growth. In the last five years, the US region grew at a CAGR of 44.0%. A strong product portfolio coupled with strategic partnerships with companies such as IBM (IBM), Accenture (ACN), and Deloitte has increased its US market growth. Its US revenues in fiscal 2018 climbed 32.0% YoY to ~$1.7 billion.