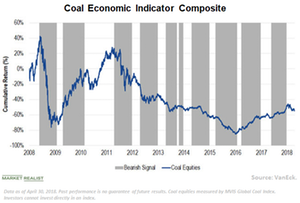 Why the RAAX ETF Has Reduced Its Exposure to Coal Equities
VanEck
Coal Equities
At launch, RAAX had a small weighting to coal, but in May, this exposure was completely eliminated based on falling coal equity prices and weakening supply and demand data. Below is our economic composite for coal. It turned bearish at the end of April due to declining demand for coal in the U.S. and China, and declining production in the U.S.
Article continues below advertisement
Market Realist
Coal industry faced numerous headwinds
Over the past few years, the US coal industry has faced challenges like stringent environmental regulations and cheap natural gas that have drastically affected coal production and consumption. Coal production declined from 1.17 billion tons a decade ago to 774 million tons in 2017. According to the EIA, US coal production is expected to fall further by around 5% in 2018 to 738 million tons.
Coal producers severely affected
Because of the drastic fall in demand and decline in prices, all major US coal producers have been severely affected. In order to stay commercially viable, many US coal companies (BTU)(ARCH) have responded by restructuring their operations, cutting production, idling or selling off coal mines, and reducing expenses. The EIA estimates that coal plants are using less than 60% of their capacity currently.
Despite their best efforts, the scenario doesn't look very promising for coal companies. The recent release by the IEA forecasts that global demand will remain flat between 2017 and 2022. While demand from developed countries is set to decline, markets like India and Indonesia might see a marginal rise.
Against this background, the VanEck Vectors Real Asset Allocation ETF (RAAX) has eliminated its exposure to coal equities (CLD)(CEIX).