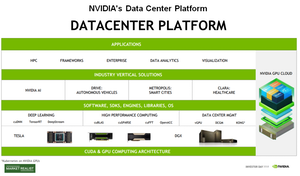 Why NVIDIA's Data Center Platform Is Preferred by Most Developers
Data center platform
In the previous part of this series, we saw that three pillars of NVIDIA's (NVDA) data center strategy are developers, data center platform, and users. NVIDIA needs more developers to increase the adoption of its platform. In order to attract more developers, the company is strengthening its data center platform and making it developer-friendly.
NVIDIA's data center platform is based on its GPU architecture, which is supported by CUDA software. NVIDIA supports its data center platform with Tesla GPUs and the DGX supercomputer. NVIDIA has made CUDA backward-compatible with all its previous architecture.
Article continues below advertisement
Data center software
NVIDIA supports its GPUs with software, SDKs (software development kits), libraries, and operating systems for HPC, deep learning, and data center management. These development tools reduce developers' workload. To further ease developers' workloads and give them more capability, NVIDIA is developing industry-specific SDKs and platforms: Metropolis for smart cities, DRIVE for autonomous vehicles, Clara for medical imaging, and ISAAC for robotics.
Developers write applications on the above industry-specific software as needed. As we learned in the earlier articles, developers can use ISAAC to create their own test scenarios on virtual environments to train robots.
The data center platform relieves developers from starting from scratch and allows them to focus on their specific applications. The next challenge is to make this platform available to small and large users alike. This is accomplished through its GPU-as-a-cloud service, which allows users ranging from startups to large enterprises to NVIDIA GPUs for their AI tasks at an hourly rate.
NVIDIA data center platform on the cloud
NVIDIA is bringing this entire platform to all major public clouds through its cloud registry NGC (NVIDIA GPU Cloud). NGC packages all the hardware and supporting software into containers and makes them available on the third-party cloud. This eliminates the issue of software optimization, as these containers are optimized with NVIDIA GPUs.
NGC software is available on the following platforms:
Amazon (AMZN) Web Services

Google Cloud Platform

Alibaba's (BABA) AliCloud
Oracle (ORCL) Cloud

Microsoft Azure

Tencent

Baidu Cloud

Cray

Dell

HP Inc.

IBM

Lenovo
NVIDIA increased the number of NGC containers from four in 2016 to 30 in 2017 by adding containers for inferencing, HPC, data analytics, and visualization. Next, we'll see how users and cloud companies benefit from NVIDIA.
Check out all the data we have added to our quote pages. Now you can get a valuation snapshot, earnings and revenue estimates, and historical data as well as dividend info. Take a look!