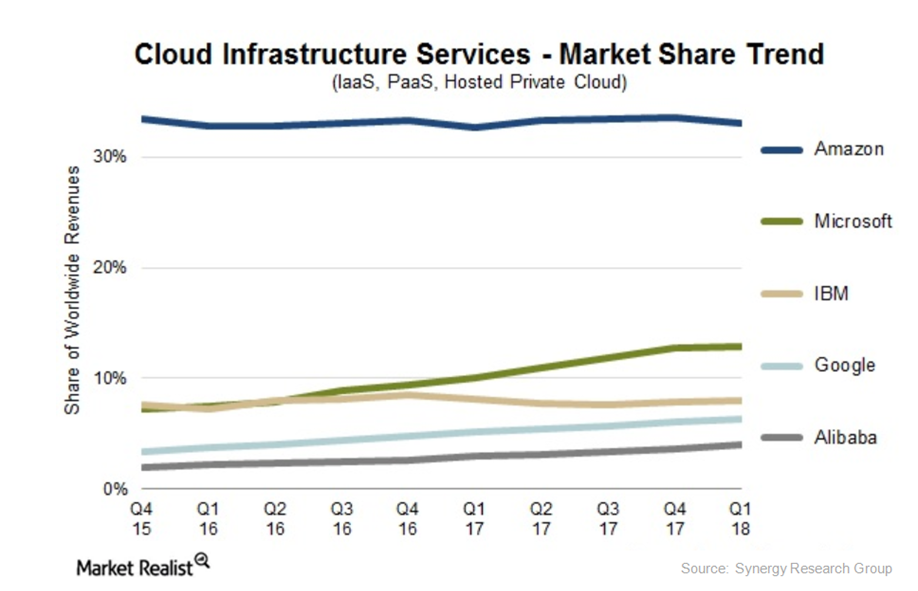 Why Microsoft's Capital Expenditure Has Risen
Increased capex in the cloud space
Previously, we discussed Microsoft's (MSFT) commercial cloud growth. Despite growing 58%, Microsoft's cloud offerings are dwarfed by those of Amazon (AMZN), the undisputed leader of the cloud space. Amazon's AWS (Amazon Web Services) revenue grew 48.6% to $5.4 billion in 1Q18. Though Google (GOOG) hasn't shared its growth figures, it has indicated that its Google Cloud Platform revenue is growing.
In fiscal 3Q18, Microsoft's capital expenditure was $3.5 billion, with most going toward data center expansion. It plans to open data centers in Abu Dhabi and Dubai, its first in the Middle East. Microsoft also plans to add two more data centers in Germany.
Article continues below advertisement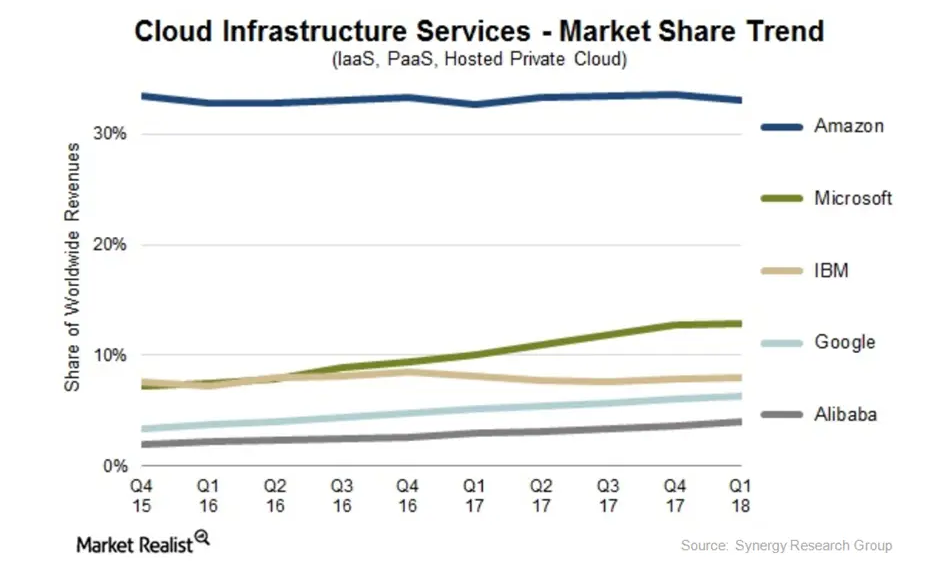 The company is boosting its capex to build new cloud data centers as leading cloud players, namely Amazon and Google, follow the same path. In its fiscal 1Q18 results released last week, Google shared that Alphabet said that it had almost tripled its 1Q18 capex to $7.7 billion. According to Cisco's (CSCO) February global cloud index report, by 2021, 94% of workloads are expected to be processed in cloud data centers, which explains the abovementioned players' billion-dollar investments in the cloud space.
Amazon's dominance in the cloud space continues
The above presentation by Synergy Research shows that AWS, with a global market share of 33% for 12 quarters now, continues to lead the cloud space. Major players Microsoft, Google, and Alibaba (BABA) have all considerably grown their market share. Whereas their market share growth has not harmed AWS's market share, it has deteriorated small-to-medium-sized cloud players' market share. IBM (IBM), in third place, has maintained a stable 8% market share.