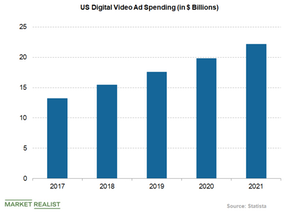 Why Is Twitter Investing in Original Shows and Programming?
Twitter's daily video views
Last month, Twitter (TWTR) announced at its NewFront presentation that the company would partner with 30 companies including NBCUniversal, a division of Comcast (CMCSA), Disney (DIS), and Viacom to bring original shows to its platform. Twitter's move is justified as the company generates half of the advertising revenue from videos. In fact, Twitter's daily video views have doubled over the past year, and the company expects to add more premium programming to attract new advertisers and audiences.
Article continues below advertisement
Article continues below advertisement
Rivals investing in original content
According to eMarketer, Twitter spent $13 billion on digital video advertising last year, and by partnering with traditional media companies, Twitter's television advertising budget would rise to around $71 billion. According to CNBC, Twitter's effort to spend more on original shows is expected to hurt YouTube's dominance.
In 2017, Netflix (NFLX) spent $6 billion to launch around 30 new original shows and expects to spend around $7.5 billion–$8.0 billion on global TV shows and movies in 2018. Amazon (AMZN) invested $4.5 billion on original and acquired content in 2017, while Hulu spent $2.5 billion on content in 2017.
Hulu is owned by four different companies where Fox, Comcast, and Disney each have 30% of the online video service. Time Warner is the fourth owner and controls a 10% stake in Hulu.