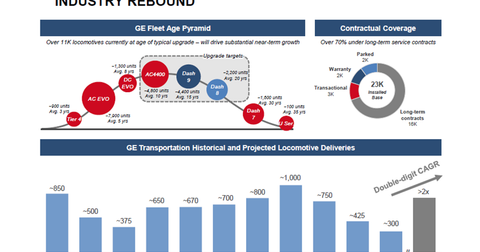 Why GE Transportation and Wabtec Will Be under 1 Umbrella
By Samuel Prince

Updated
GE and Wabtec: Sailing in the same boat?
In the previous part of this series, we saw that General Electric's (GE) Transportation segment was an underperformer in terms of revenue growth, operating profits, and operating margin growth. Wabtec's (WAB) Freight segment also did not do well in those parameters. Note that GE manufactures diesel locomotives. Given the worldwide growing emphasis on rail route electrification, the long-term viability of diesel locomotives is in question. There are also other factors that encouraged these two rail equipment manufactures to build a common bridge.
Article continues below advertisement
North American rail freight traffic
GE's Transportation segment is dependent on revenues from its North American operations. Data gathered by AAR (Association of American Railroads) show that North American rail freight (CSX) traffic was at its peak in 2014. However, it then started to decline. Carload traffic along with intermodal fell steadily. The fall in energy-related commodity prices such as coal and crude oil added to rail transportation (XTN) companies' woes.
That, in turn, lessened the demand for locomotives. Many US Class I railroad companies (NSC) kept their locomotives in storage and indulged in asset rationalization due to the fall in coal carloads. Instead of ordering new locomotives, rail carriers focused on rebuilding locomotives and upgrading their technology. Their capital expenditures declined over the years and haven't picked up yet, with some exceptions.
On its first-quarter earnings call, GE said that parked locomotives were seeing some improvement but were still at historically high levels. At the end of the third quarter of 2017, GE had 4,000 parked locomotives. All these factors led to a slump in the manufacturing of railcars, locomotives, and related equipment.
In the next part, we'll look at the changing fundamentals of the railroad industry.