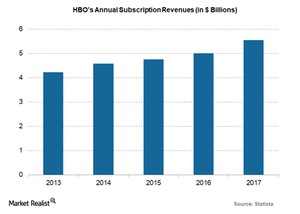 What Time Warner Might Face If the AT&T Merger Is Blocked
By Sophia Nicholson

May. 7 2018, Updated 7:31 a.m. ET
Merger trials
AT&T's (T) proposed purchase of Time Warner (TWX) in October 2016 has been mulled over in court for over five weeks. The US DoJ (Department of Justice) believes that the deal should be blocked by the Federal District Court of Columbia, as the merged entity could charge higher programming fees and reduce competition.
AT&T and Time Warner have been defending the $85.4 billion agreement, stating that it would not harm consumers as the cost increase would be nominal. The combined entity could also compete with new Silicon Valley entertainment rivals.
Article continues below advertisement
Uncertainty on merger outcome
Both sides have given their final arguments related to the deal, and the federal judge hearing the case is now expected to take at least a month to reach a decision. If the DoJ loses, companies could be encouraged to pursue more transformative deals and vertical integration. However, an outcome in favor of the DoJ could give antitrust regulators more power to restrict mergers that may lead to industry concentration.
If AT&T gets regulatory clearance, the telecom company will gain access to Time Warner's premium content. This access may boost its revenue, which has been impacted by a shrinking subscriber base. However, if AT&T loses the lawsuit, it will have to pay a termination fee of $500 million to Time Warner. The deal is anticipated to complete in June 2018.
Article continues below advertisement
Growing demand for media assets
If the merger doesn't materialize, Time Warner shareholders aren't expected to lose. According to CNBC, Time Warner assets, primarily HBO, are highly desirable. Therefore, it's expected that some media or Internet-based company would bid for HBO if AT&T does not get merger approval. HBO delivers original TV series, movies, boxing matches, stand-up comedy, and concerts. In 2017, HBO's subscription revenue rose to $5.5 billion from $4.2 billion in 2013.
Telecom and media companies have been striving for a stake in media assets owing to the growing demand for original series and sports content. For instance, Disney (DIS) has agreed to buy 21st Century Fox's (FOXA) film and television assets. Meanwhile, Comcast (CMCSA) has recently offered a higher bid for Fox's Sky. Verizon, Amazon, Fox, and others are also pushing hard for acquiring sports broadcasting rights across various digital platforms.